The Ordinary The No-Brainer Set 30ml x 3
Skin Concern:
Dull, dry or dehydrated skin
First signs of ageing
Skin Type:
Dry
Normal to dry
Normal to oily
Oily
Frequently bought with
Please wait while we find a match
Questions & Answers
(24 Questions)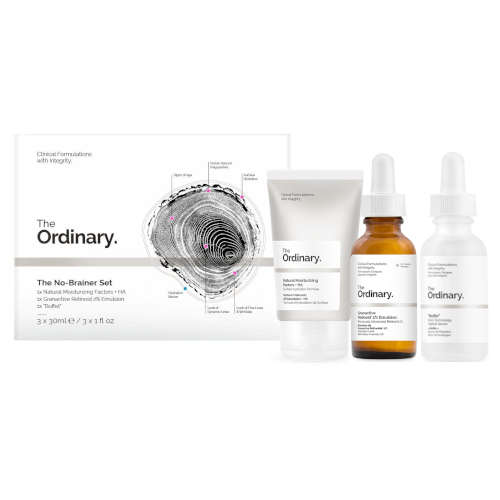 The Ordinary The No-Brainer Set
Get an expert to answer your question about this product!
Ask a Product Question
97% recommend this product
Most Helpful Positive
Fantastic set!
This set is a fantastic introduction to 'The Ordinary's' fabulous products. Great value. Easy to use!
Most Helpful Criticism
Meh - tacky texture
I was interested in The Ordinary and attracted by the price point, but alas I'm not a fan. The Buffet texture is too tacky and the moisturiser takes a lot of work to smooth into my combination skin. Granactive Retinoid Emulsion is the best product of this set, reasonable for price point.
Fantastic set!

This set is a fantastic introduction to 'The Ordinary's' fabulous products. Great value. Easy to use!

Fantastic quality

Amazing quality products that actually do what they claim but at such an affordable price! Great value for money pack!!

Amazing

I have used it previously but stopped for a while as was having bad rosacea. I have just started again and my skin is so good

perfect starter

I love these three products, I use the buffer in the morning which gives my skin a smooth hydrated and tight look. I use the other two products at night ! It has helped reduce my fine lines!!


Wow!!

Absolutely love these three products, I use the buffer in the morning after cleansing and get a really smooth tight look in my face. I use the other two products at night and feel and look fantastic. It has helped remove my wrinkle in my forehead so I am really happy with the product!

Good for starters

I was really confused from where to start my skincare regime with TO..and then i found this kit..very nice addition to my regime not to harsh on skin like other acidic product, easy to use and good on pocket.Good for my sensitive and acne prone skin.

Meh - tacky texture

I was interested in The Ordinary and attracted by the price point, but alas I'm not a fan. The Buffet texture is too tacky and the moisturiser takes a lot of work to smooth into my combination skin. Granactive Retinoid Emulsion is the best product of this set, reasonable for price point.

Amazing

My skin has never been this good. I love the results of this kit and recommend it for getting incredible skin.

Rippa Deal!

This pack Is amazing and such good value for a starter pack. If you're starting with reitonol this is an awesome was to start. Love the moisturiser and the lock in serum felt a huge difference in my skin a way after starting!

IT WORKS!

Bought this set for my husband last week and I can see a difference in his skin already, much brighter !

Awesome

love this set to be introduced to the brand, cleared my acne prone skin in a couple of uses will be defintely purchasing full size versions, highly recommend

Fantastic gateway to The Ordinary

Was looking to set up my skincare now I'm getting older (30s) and had heard heaps about the Ordinary. This was great selection to try initially - have reordered all 3, and more!

amazing stuff

I saw results using this product within a couple of weeks! really great set to try out this brand and it really reduced my oiliness and breakouts !!

Great price and gentle.

I am 46 and have only been using for one week but all products in this pack are gentle on my skin and I have not experienced any irritation from the retinoid product which is a bonus. My skin is looking clearer and I am looking forward to seeing more positive results in the coming weeks. I also have dry skin and I have found these products to be very hydrating. Highly recommend.

Great Products

I bought this as in my mid-thirties I have developed a mild obsession over serums and skin routines. Here you have a fair, acne-prone lady.

I have been using them for over 4 weeks and I am finding it amazing. My skin is brighter, smoother and overall feels healthy and glowy. I have had a few compliments as well.

The "buffet" is amazing, very light and pleasant. I am using it daily. The Granactive Retinoid 2% is also geat albeit stronger. I am using this twice a week and think is more than enough.

The price point is amazing, considerably cheaper than most other brands with the same type of products.

The brand lives to its hype. 100% recommended.


One week and see results


It's been a week and my face is already brighter, dark spots are fading and the texture is smooth!

HA 2%

Absolutely adore this product on to my forth bottle... recommended to my sister. Really plumps my skin. Love love love this...

Wow wow wow!

I have noticed such a huge difference in my skin since using these products. My fine lines are less visible and my general complexion has improved a lot. I use all three products in the set and follow the directions adore beauty recommend and I'm seeing amazing results. This is a must try for anyone looking to add to their skin care regime.

so hydrating!

I've been using this set for about two weeks now and I'm definitely noticing improvements in the texture and hydration of my skin! It's definitely never dry anymore and my skin is feelin very happy. The only thing I don't like about this set is that buffet leaves my skin feeling sticky/tacky, so like when the wind blows my hair will stick to my face, and when I lay in bed with my cat, I'm going to have cat hair all over my face. I'm sure if you wear foundation or powder this would help in the daytime.

Amazing

I have super sensitive skin and haven't found a retinol product my skin will tolerate - until now. I saw massive improvements in my skin only 48 hours after I started using this kit. My new holy grail skincare. Love love love it!

Love

I love the ordinary. This makes my skin more even, smooth, toned, and soft! An amazing product for the price and lasted a fair while considering the size of the bottle! A fantastic set to be introduced to the brand!

absolutely love it so much,

couldn't recommend this anymore! absolutely love it so much, clears my dry acne prone skin

Good products

Love these products although not 100% sure how I feel about the moisturiser but either way these products have been working wonders for my skin.
If it's cheaper to buy individually I would recommend doing so.

Very impressed by this brand of skin care

I've always used expensive products on my skin and have found this brand to be just as effective if not more!
My skin is glowing!

Awesome

couldn't recommend this anymore! absolutely love it so much, clears my dry acne prone skin

Great

It's been a week and my face is already brighter, dark spots are fading and the texture is smooth! Seriously?!?!?! I bought all sorts of expensive serums and this worked!

Great combo of products

Fantastic way to get introduced to The Ordinary. Love the retinoid emulsion. The package is very thoughtfully combined - moisturiser is great for use after the emulsion to prevent drying out of the skin

Best set

Such a great set of skin helping ingredients definitely a must have for me!

Not for me

I had high hopes for these products but I started breaking out badly. I reintroduced them again after a few weeks but broke out again so I stopped. Such as shame as I really wanted to like them but not meant to be.

Great gift

I gave this to my mum for Mother's Day and she couldn't be happier. She said one of her friends has complimented her on her skin and then bought her own set.

The Ordinary is anything but

This is a great way to get to try some of The |Ordinary's top products. I highly recommend it to anyone who wishes to try products that rival some of the leaders in the beauty field. I was (still am a tad) a high quality/expensive skin care obsessed customer! I use these products daily as well as some old tried and true products I have always loved. but the money I'm saving by buying more affordable skin care that works is going towards beauty and bath products to really treat myself! Give The Ordinary a go, you won't be disappointed!

Great addition!

The three products are equally as good and a great addition to my skincare regime. My skin feel smooth and fresh. Very affordable product!

Great as a gift

This has most of my most used products from the ordinary. My skin always looks fantastic the next day. This is also a fantastic as a gift!

Great buy!

Just spotted this while looking for a birthday gift! The Granactive Retinoid & Buffet are staples in my regime & the moisturiser is great alone, but I use it as a "carrier" and blend a few drops of Marula oil into it at night. Great intro pack to the range!

Perfect introduction to The Ordinary

I don't use a lot of skincare products and I've never really found a set that I love... until now. The price point was right to start with. It's super quick and easy regime and my skin is loving it. I was skeptical of the size of the products but a little goes a hell of a long way so the value is definitely there. Will buy these products again and will definitely recommend!

Great set

I love the ordinary. This is cheap and it works! This no brainer set even save you more $$$$ and most importantly it works!

3 excellent products

I purchased this set randomly as I was looking for affordable skincare products. I used to spend a fortune on expensive brands when I could but I never found anything I really loved. I will be buying all three of these items again and again.

Great Products

Never used this brand before, thought I would try it as I had run out of my usual Hyaluronic Acid. Really happy with each of these items, they absorb well and you can feel the difference after applying. Will be buying again.

Great Introduction

I bought this as a gift for some girlfriends as I feel like giving single skin care is too intrusive but don't like the normal gift packs with hand creams etc. Everyone I got one for loved it, great introduction to the range and shows them what the products do. I hope they do other types! Good price too,

The Gateway product

This was my gateway product to The Ordinary skincare range. I suffer from dermatitis, my eczema flares up especially during winter, and so far, I haven't had any negative reactions. I have since graduated to buying the Natural Moisturizing Factors + HA 100ml from The Ordinary. It sits very comfortably on top of two, three or four ingredients.
I alternate between the "Buffet" and Marine Hyaluronics, using them as serums , but I prefer the latter over the "Buffet" for my skin during the cooler months.
The Granactive Retinoid 2% Emulsion was a bit intimidating for me, cause I've never used any retinoids, retinoic acids or retinols. This is a great product to start me on a Vitamin A journey, I haven't experienced any irritation, so I'm looking forward to upping my dosage.

Wow.. super great

I love this product. This is my first time using it and it's definitely the best. You notice results from day one. I love it. It's exciting to see a great product at an affordable price. Thank you.

Great starting point

This is a great starting point to try their products. It will help you work out which ones you need and which you can do without. I'm still using them all though. They absorb into my skin quickly and leave my face feeling really soft and clear

Well worth a try

I purchased this set back in August of 2018 and since have repurchased Buffet and the Retinol again. Retinol is a lovely mild serum to use, I don't notice any inflammation and am using it every other night, the only time I realise what its doing for my skin is when I get my brows done, if I have used it in the few days before my skins is super red, then I remember. The Buffet works beautifully works well under my make up and doesn't ball up when mixed with other skincare. The moisturiser is lovely and a good option, for me I want something thats doing a bit more so use something else. These products from the Ordinary are really great and I have seen brilliant results


Best way to get hooked on The Ordinary for the $$ conscious

I had only ever tried The Ordinary Hyaluronic Acid before purchasing this set. I'm so glad I got it!
It was the perfect introduction to what their products can do and for an affordable student-friendly price.
You WILL use all three of these products and they are full-size serums so will last you a while to be confident in results :)

Great everyday support for your skin

I have only had the set for a week and am really am enjoying how my skin feels when I use the products. i think my skin looks brighter and feels well hydrated. I have no hesitation in recommending this to someone who wants an everyday skin regime with little fuss and good results

I'm hooked!

I bought this to try out The Ordinary and see what all the fuss is about. I am now converted and will continue to use these! This is perfect for my sensitive and unfortunately aging skin. My skin feels firmer, plumper, softner and is so hydrated. I highly recommend this!

Loving it so far

I've only had this set for a few days, but already I can see a positive difference.
I have extremely dry and dehydrated skin (lacking in water and oil) which is currently really congested. I had a bit of a break out happening when I started using the set.
So far, the texture of my skin seems to be improving. The break out is all but gone when it had previously been there for a good week or two. None of the formulas are harsh on my sensitive skin - I've had trouble finding products that don't sting while actually making a noticeable difference.
This really is a very easy skincare regime so I completely understand the "No brainer" tag line. I'm hooked!

The perfect starter set

I bought these products despite the mixed reviews I had heard and I'm so glad I did. Since using this set I have noticed my skin is so much more hydrated and I have been brave enough to go makeup free. I bought several other The Ordinary products after having good results with this set.

First step is always the most important!

This pack makes an excellent introduction to the Ordinary with 3 products that work well together. Within days, I had more glow in my skin and two months in, my skin looks better than it has in years. I've gifted this to so many friends and they just love it.

great start

great to get this to help get started

Great way to try the most popular products from The Ordinary

After hearing a lot of hype about The Ordinary, I found that the no brainer set was the easiest way to try out the most populate products from the range. I noticed that the Granactive Retinoid 2% made the biggest difference to my skin and was super affordable compared to other retinoids on the market. Left a slight tacky feel which I didn't mind for my PM routine. As someone to wears makeup everyday, I wasn't able to use the Natural Moisturizing Factors + HA 30ml as it left white streaks and stopped my foundation from blending properly. The Buffet was ok but not something I would repurchase.

Amazing, life changing products.

I was hesitant to use these products, there is so much buzz around them at the moment and I'm sick of being disappointed and wasting money.
However I'm a long term sufferer of acne, and after having been on Roaccutane twice, I was desperately looking for another alternative to going down that route again.

HoweverI have been absolutely amazed by the results, my deep cystic acne has started to shrink, the uneveness/bumpiness I felt over my entire face has also basically disappeared. My face overall just looks shinier, brighter and healthier.
This is the first product that has done that.

I've noticed a slight amount of dryness, but as I have progressed with the product that has stopped.

I havent noticed any difference with scarring on my face, but the improvement to my acne is just incredible.

perfect

this is the perfect gift for everyone even my brother loves it

Excellent intoduction

This pack makes an excellent introduction to the Ordinary with 3 products that work well together. Within days, I had more glow in my skin and two months in, my skin looks better than it has in years.

Fantastic set

I bought 2 of the no brainer sets before Christmas 1 for my mum and one for me. I chose to try them from reading ppls reviews. Admittedly I didn't get to give it the chance I'm sure it deserves as I was very caught up with a new born and just not giving much time to myself.

My mum is very slack when it comes to sticking to skin care, she loves the concept of it but just doesn't stick to it.... Well..... She had come down stairs to join me for a coffee the morning after I had given her the box set and the first thing I noticed was how incredibly hydrated her skin looked and how much she was glowing... I said: have you put that product on? She said yes I did last night and this morning. Her skin was beautiful.

Today I've ordered her her 3rd set she gets compliments all the time now it's such a visible difference on her.

I asked her how long it would realistically last her if she didn't over use it as she likes to pile on the moisturizer but doesn't need to. She said realistically it would last her 3ish months if she used the recommended amount (if that helps)

I've ordered tonight the rose hip oil they have to give it a go after reading reviews as I'm pregnant again with super dry skin. Will write a review of I manage to give it a good go.

But regarding this pack.. I highly recommend. I know not all products work the same on everyone but it's the best I've seen on my mum and the only skin care EVER that shes continued to use and stick to

A great intro to The Ordinary

A great intro to The Ordinary, I've given this to a few friends to introduce them to the range.

the essential

this is the essential to have clear smooth skin

An absolute No-Brainer!

If you are tossing up whether to get this set or not - do it!
It is the perfect introduction to The Ordinary.

I was hesitant to purchase these products as they seem quite complex - but with a bit of research I found that they are SUPER easy to use!

Not only that - they have an extremely low price point and are such a luxurious item.

Buffet - lives up to the hype!
Granactive Retinoid 2% Emulsion - excellent and not too harsh on my sensitive skin. I have been using it over the top of Buffet as my skin is quite sensitive, and I have not seen any reaction. I am working my way up to trying it directly on my skin.
Natural Moisturizing Factors + HA - the most luxurious moisturiser I have ever used. It is soft, silky and hydrating.

This set is truly a 'No-Brainer!'

Perfect combo

I have been recommending these 3 products to my friends for ages - it's great to see that The Ordinary has finally put them together as a pack. I started out by using these 3 products and now I'm addicted. After a few weeks of using the Buffet/Retinoid/Moisturiser combo, I could see a noticeable different in both the feel and appearance of my skin - so much plumper and radiant.

Love it

Mix and match these, love it

perfect skincare set

This skincare set is perfect for people wanting to try out products by The Ordinary. Its got a good range of amazing products and works well as a gift set too!

Great introduction to the brand

I had been recommend this brand by a lot of my friends and I didn't know where to start. This was a great starter pack, and I've since incorporated two out of the three products into my regular skincare regime.

Perfect starter bundle

I went for this bundle as I'm new to 'the ordinary' world. I am so glad I tried it! The first night I didn't use the retinoid - just the buffet and moisturiser. Woke up with softer than usual skin but didn't want to call it a miracle too soon. Now I can say after using all the products that I am sold! My skin doesn't look as dull as before and I've noticed improvements already! Would definitely recommend this as a starter for the newbies like me.

AMAZING

This set is unreal. I already love the ordinary products, so having it in a set is great.
My skin reacts really well and it has never looked so good since using these.

AMAZING!

I had read the hype about The Ordinary but was still slightly skeptical when I purchased this set.
I've been using the products for almost 3 weeks now and I have noticed such a difference in my skin. It's brighter, tighter and feels so much better. The best part is I've been getting so many compliments about my skin now.
I've never had any major issues, just starting to notice signs of aging and this has definitely helped with that!

Great Starter Kit.

Great Starter kit for a beginner to initially use retinoids. Very gentle.

Good value buy

I have sensitive, combo skin and get small blemishes on the T-zone. My concerns are brightening/whitening, shrinking pores, hydration, plumping and getting rid of blemishes. I am 23 years old and Korean (female). I bought the product because I heard good reviews about the Ordinary and wanted to start trying a retinol. Also, I already have the Ordinary Niacinamide and salicylic acid. I hoped the set would address some of my concerns. It has only been a wk but I see some improvements and I feel like my skin is pretty good. I love the feel of the buffet and the moisturising factors and my skin has not reacted to them. I am being more cautious with the retinol and using it every 2 nights but I think i see some brightening and improvements when I wake up. For the price point, I recommend you try it! I will post again when I have used it steadily.

Great way to try this brand

This was my first purchase of this brand, and it's a good way to try a few products to see if they work for you. Unfortunately I Can't say I noticed any visible difference in my skin, and I found the serum a bit too sticky for my liking.

Love these products

I have dry/oily skin and find it hard to find a product that keeps both the dry and oil under control. These products are fantastic especially for the price. This set is great to get for a first timer to the products as this brand has lots of choices and it can get confusing of what to get. I would recommend :)

Valued price

A great set to try three anti-ageing product. Love them. hydrating but not oily. will definitely buy again.

Amazing for the price. Won't look elsewhere.

I have combination/oily skin and have had amazing results with these products.
I honestly wasn't expecting results to be honest due to the low price point but along with their niacinamide 10% + zinc 1% my sking has improved dramatically. My skin is 100 times better, feels lovely, fine lines and even deeper lines have vanished and my redness has improved dramatically.
I usually get breakouts around my nose/mouth area and since using this morning & night i have had none.
I disagree with some people saying the moisturizer is heavy. I mainly use it at night myself but a little goes a long way.
Love love love.. will ne buying more of their products.

Perfect Introduction to The Ordinary

I'd been wanting to try The Ordinary's products for quite some time, but didn't know where to start. This is the perfect introduction. I haven't been using them for long enough to comment on the effectiveness of the products individually, but as a set it is really reasonably priced and so helpful to have a few key products packaged together. I'd recommend to anyone else wanting to give The Ordinary a try for the first time.

Good moisturising products

I read previous reviews on these products and have them a go. I have been using them for about 3 months and I'm happy with the results, although I wonder if in winter time they would still hold as the air is less humid.
I really like the cream as it absorbes very quickly but find that both serums take a while to absorb, so the night time serum have to apply quite early at night time so that my face doesn't feel so sticky against my pillow.

Great Value !

Having already purchased these 3 products from the ordinary, buying this set was really a no brainer for me. With my sensitive skin (I have eczema) I found that the retinoid and the buffet does wonders to calm down my skin and decrease the frequency of skin breakouts. The NMF+HA moisturiser I found was not as impressive as the other two but it does keep my skin moisturised for a short while so I like to keep this in my handbag for emergencies. I think this is a really good set for those who are new to the ordinary as the buffet alone costs around $25

Fantastic purchase for anyone beginning a more advanced skincare routine

Bought this product when i was becoming interested in skincare but when i didn't have a lot of knowledge on the active ingredients that are listed on products such as TO. But after purchasing and using for 2 months i have really enjoyed the new products and they have even allowed me to venture out into a more advanced routine that i have customised for my skin. 'The Buffet' is especially great as i really feel like it hydrates and softens my skin, it is a fantastic AM product.

First time user- loved the result!

- it's hard to deciphre the product because the names are so complicated. Would be good if they had 2 names (?)
- after one use, skin was soft. No post breakout
-smells great
- good balance between hydrating but not oily
- will definitely use again, try their other products and recommend.

Incredibly happy with the results!

I was pretty skeptical to begin with, I wasn't convinced that the products would make much of a difference but I was very pleasantly surprised! I'm only one week into this regime and already I am seeing a very notable difference in the appearance of my skin and even the texture. I did have some minor little blemishes to begin with, but honestly, they weren't so bad and I'm glad I kept going. I can't wait to see what my skin will be like in a month! Hands down best products I've used and I would absolutely recommend them to anyone who is interested!

The perfect start for me and hubby

We (hubby and I) both started our 'The Ordinary' journey with this kit. I have very dry skin and problems with hyper pigmentation and hubby has very oily skin with large pores. We both loved this kit but as time went on he gave me his 'Natural Moisturising factor' as it was too thick for his skin, perfect for mine. I don't know who wouldn't benefit from buffet its just beautiful to wear. Sinks in so quickly. My only complaint is how quickly it goes! Highly recommend this kit if you're starting out with The Ordinary'. If you have extremely oily skin tho, maybe just buy the buffet and Granactive Retinoid on their own tho as the cream may be too much for you. (I combined this along with Vit C for help with pigmentation and have noticed a difference!)

A great value pack

This trio of products are amazing value for the price, and for the quality of skincare they offer. I was new to these particular products, though familiar with the brand. I love it as it's vegan. I have found the Buffet serum to be lovely and light, while improving the quality of my skin's appearance. The moisturiser is lovely and hydrating, and I've since ordered it again in a larger tube. Definitely a staple in my skincare routine now! I highly recommend this set as an introduction to these products.

Another to add to my collection

Bought this as I have ageing skin and was a great intro to all 3 products, the retinoid has lasted me ages

First time "The Ordinary" user

I bought this bad boy for myself after reading an extensive amount of reviews for this brand & set. I wanted something with a bit more "oomph" for my normal / oily (t-zone) + aging skin & found this set was the best place to start.

I begin by cleansing my face (not ordinary brand + I use Tarte's silicone scrublet to really get in there most days). I then use my toner (also not Ordinary brand, but plan on purchasing once I run out of my current bottle) buffet serum, granactive retinoid then the moisturizer.

This is pretty much my first time using heavier / stronger products then the normal cleanse, tone & moisturize routine I had & I am LOVING the buffet serum + the retinoid. I feel as if a little goes a long way with all three products in this set but cannot say I like the moisturizer. It's feels as if it leaves a heavy / greasy layer that takes a while to sink in. To me, it doesn't feel nice, so I will most likely change back to my previous moisturizer once I finish this tube.

My skin had the tiniest amount of "purging" when I first changed over routines but nothing to obvious or unmanageable & cleared up quite quickly. The retinoid didn't cause any irritation like I though it might do & will most likely be trying the stronger option once I finish this bottle.

All in all, great products, great price, will definitely repurchase (minus the moisturizer) & would definitely recommend.

Fantastic!!

I bought this as a Christmas gift for a skincare junkie sister and she loved it. A great way to try some versatile products from this range. She is already getting compliments about the change to her skin!!

Great value intro pack

If you're unsure about where to start with the Ordinary products, this set is a great option. For the same price as many other single items of higher priced brands, you can try THREE Ordinary products. The only reason I didn't give this 5 stars is the moisturiser is a little thick for my skin. Would like them to make a lighter version.

Great way to try The Ordinary range

Trying The Ordinary range can be confusing as to know how, when and what to use. This is a good starter pack.
Although I had to educate myself on AHAs and BHAs and what they do. Great price too.

Great

Love the ordinary products on my dry sensitive skin and love this 3 great products in one its a no brainer.

great pack to start from

a good set to start your regimen. a good set to try all the good anti aging products from The Ordinary. perfect for gifting.

Perfect pack to get you started

This was the perfect little into pack to The Ordinary for me. I feel like my skin is a lot more even and less textured. Highly recommend for blemish prone skin!

All the Essentials

Honestly, this set has everything you need. If you're unsure of where to start with trying out The Ordinary and their massive and confusing range of products - this is the best place to begin.

Love!

I'm new to The Ordinary and wanted to check out the hype so I bought this set to try out some anti-ageing products. What a great set! Cost-effective and after several weeks of use starting to see skin brightening improvements from the serum and retinoids. I'm buying myself a second set shortly. Love this collection.

Great product and value

Perfect to try a few the Ordinary products.

Brilliant

I have been using the ordinary for a while but opted for the starter pack as id never used the Retinoid that comes with it, brilliant pack at a great price

The only skincare regime you need!

I am so happy to have found The Ordinary!! This kit was the perfect starter as I was unsure of what product I would need for my skin, it has everything I need and was super cost effective!! The buffet leaves my face feeling fresh and the moisturiser is great as a little goes a long way. Love love love it!!

Definitely made a difference!

I have been using The Ordinary products for a few months now and my skin is clearer and smoother than ever before. I no longer have to use foundation to cover blemishes and rarely get a pimple like I use to. I myself have sensitive skin, but have had no issues with any of the products in the No Brainer Set.

Nice affordable skin care

This set is a good affordable set of skincare, it leaves my skin feeling generally hydrated and fresh. I find that if I use the buffet before I go to sleep, I wake up and my skin feels revitalised. I like that the Ordinary keep their products and range simple, but effective. 4/5

Kit name says it all!

This was my introduction to this brand. I had done a tone of research into the company and it's brands and decided to start here.
I found this kit and thought $50 really what do I have to lose.? Compared to some skincare where you need to sell your home just to afford the range.
I have bad hormonal acne and I was using something else which was working finally but needed something to amp it up to 100%
This did it it's amazing... I'm noticing my acne scarring is lighter and the hormonal acne under my chin area which I couldn't get rid of is finally gone.. it's taken about 5 weeks but all the lumps are gone. And anyone who has hormonal acne knows how sore it is so to say it's actually gone I am truly amazed. It's taken 8 years of hell. I had never had acne before. I have just bought another set.. I won't be running out I really believe in these products.

This is such an amazing gift idea

Will definitely buy this for friends and family as presents! Love it

Amazing set

Got this as a gift and I love it, especially the retinoid. Fine lines are disappearing!

Great value set!

Amazing value and trial/starter kit for a few of The Ordinary best sellers. Can't live without the "Buffet" serum - great for layering or enough on it's own as it's so hydrating. I have sensitive skin and all these products have worked well for me.

Great introduction

After spending hours trying to decipher the Ordinary products and how to build and layer them in a skincare routine, I ended up going with this set. I have been using this for over a month and have received many compliments from friends and personally noticing that my skin is smoother and plumper. The greatest area of improvement for me has been frown lines on my forehead which have visibly improved and are less noticeable. The only thing to be wary of the Retinoid 2% as overfrequent use caused red dry patches on my face (and I don't have sensitive skin).

Excellent for acne-prone skin

I have had problem skin all my life, but recently it has been quite inflamed and nothing I did helped. I bought this pack and within two days my skin was clearer than it's been in ages. I use the light serum in the morning, followed by a moisturiser/sunscreen (I use Go To), then all three products at night. They sink in nicely without any residue, without drying it out. It's my first time trying The Ordinary, so I'm excited to see what else I can use once my other products are used up. Definitely recommend!