The Ordinary Niacinamide 10% + Zinc 1% 30ml
Skin Concern:
Acne, breakouts and blackheads
First signs of ageing
Oiliness and shine
Pigmentation, uneven skin tone
Sensitivity and redness
Skin Type:
Dry
Normal to dry
Normal to oily
Oily
Questions & Answers
(59 Questions)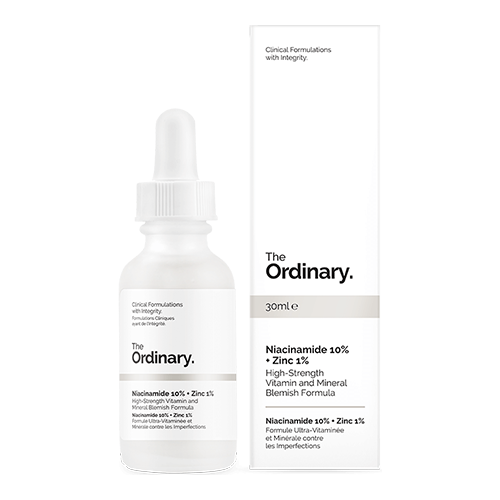 The Ordinary Niacinamide 10% + Zinc 1%
Get an expert to answer your question about this product!
Ask a Question
88% recommend this product
Most Helpful Positive
Amazing
Most Helpful Criticism
Slowly fades scaring if you're consistent!
This product is great with tackling active breakouts and helping with scaring but you have to be consistent with using it. I find it does help with oil control but the downside is that you can't wear this under makeup as it causes pilling! I've tried applying less, using different foundations, different primers, no primers, but it still causes pilling. It also gets "soapy" when you first apply it. Overall, an OK product. I would give it 4.5 stars if it didn't cause pilling!
Amazing

Decent product

Helped clear my skin. I still have pretty bad breakouts but this has definitely help with the overall look and it helps to calm them down a bit.

Not for sensitive skin

Spot test this product before using! I have oily sensitive skin and found that after three days of use I developed white bumps and a red rash around my chin. Disappointed as I was looking forward to trying.

Cleared up my acne

I have quite acne prone skin and was going through a really bad stage of deep cystic acne that nothing was helping. I ordered this product and started seeing results in 2-3 days. No more painful breakouts, just comments from friends on how radiant my skin is!

Really great for my skin!

I've only been using this with a few other TO products for a week or so now and I'm already seeing the difference! My pores are looking less clogged and my skin is looking better than it ever has! Really happy with my purchase!

Great Value for Quality

Love using this product! It isnt too harsh on the skin but has hugely improved the texture and brightness of my skin. Amazing value for such a good product!

Amazing

I'm at the stage of trying all different products as I've started adult acne and I'm super pleased with this product! No irration, soaks in quickly and I can already see a clearer complexion over night :) only used it once so far but looking forward to future results :)

Amazing

I've been using this product for a while now and absolutely love it. I have just purchased my second bottle. At first when I started, I did break out for about a month or so but that's how these products usually work but since then, my skin has been clear. I have been mixing this with another product to dilute the product as it can be quite harsh. I have oily and sensitive skin. I do break out from a pimple or two occasionally every few months during those expected months but overall I am super happy with this and would definitely recommend as it keeps my skin looking clear from acne

Slowly fades scaring if you're consistent!

This product is great with tackling active breakouts and helping with scaring but you have to be consistent with using it. I find it does help with oil control but the downside is that you can't wear this under makeup as it causes pilling! I've tried applying less, using different foundations, different primers, no primers, but it still causes pilling. It also gets "soapy" when you first apply it. Overall, an OK product. I would give it 4.5 stars if it didn't cause pilling!

Pimples

Makes me break out in pimples all over my face

Not for everyone

I know this has lots of rave reviews- but to balance them out, absolutely didn't work for me- in fact every time I used it, I got more breakouts that took a few days to clear. Ita obviously great for many, but it's not a miracle product and not for everyone- unfortunately... I really really wanted to love this brand.

Pretty good product

Been using this serum for around a month, I've seen an overall improvement in my general complexion, but no real difference in my acne spots and scars.

It's great to get rid of pimples

Everyone in my family uses this now. Great to get rid of pimples.

THIS IS WHAT DREAMS ARE MADE OF!!

This product completely changed my skin. I used have lots of millia and whiteheads and this caused texture on my face. This product completely got rid of the texture and also helps with my pigmentation. Best skin of my life!!

So good

This is the most effective product from The Ordinary that I've tried. In just a week of using it once a day at night, all the blackheads around my nose and chin have disappeared along with the little bumps on my forehead.

Love

Helps with breakouts. I've been using it for 6 months now

great for oil control

cleared up my closed comedones, fantastic for oil control. i use it every night, so i go through it quickly, but it should be a staple in everyone TO collection.

LOVE IT

Really happy with this product. I have fair sensitive skin with pale freckles and this does not cause any irritation whatsoever, but I do keep it away from my eyes, just incase. I see this product as a long term addition to my regime.

So good

This is honestly a game changer for oily/combination skin and acne scarring

Game Changer!

After giving birth a few months ago my skin went from glowy to dull and lifeless.
I use this product at night after cleansing and using The Ordinary 'Buffet'.
It's really evened our my skin and given it clarity!

So pleased with it

I have used it for months now and will keep purchasing. I used to have oily but flakey skin that even toughest scrubs didn't peel properly. Occasional acne and clogged pores. This has been so amazing. My skin is clean and smooth and pimples are a rarity that heal quick and feel minor with no big inflammation. And at such good price! Truly thankful to have found it

An essential skin care product

I had always struggled with really bad breakouts, I started using this product and never noticed a difference.
I then done some research and was advised that this product could take up to 12 weeks using every second day. After pushing through and continued using it after 12 weeks I noticed a massive difference in my skin. It really helped preventing new breakouts and also really managed my current skin issue.

I was recommend this product and absolutely love it. Such a great product at an even better price

Good value

Good product. I have only been using this for a few weeks but seems to make my skin hydrated and clear. Good value.

My oily skin loves this

As someone with very oily and acne prone skin, this stuff is legit. Not going to lie though, it took awhile for this product to do its magic but after a soild two months of everyday use my skin is always clear. It also helps to keep my oils down. I have noticed that once I stop using this, my acne rears its ugly head so I always have to have this in my skincare kit! I also love how affordable it is and one bottle lasts me months!

Great for redness

I have been using this product under a moisturiser in the mornings and it has reduced the redness in my skin and reduced blemishes. Would definitely recommend.

Amazing

Great product, incredible price point

Love It!

We have just started using this on teenagers break outs and are really loving it.
The serum goes on easily and soaks into the skin well. We have noticed the blemishes clearing up so much quicker and this makes both my teenagers very happy.


Effective

This product is pretty effective at keeping pores clear and clean. Isn't that hydrating but if you use a moisturiser over top it's nice. Good for oily spots on the face.

Has really helped complexion

Have been using this most mornings for a few months. It has really helped with pesky adult spots and dull skin for this 38 year old. I use the Buffet afterwards and moisturise without too many issues under makeup.

Keep repurchasing!

This serum is an absolute godsend for blemish prone skin. I use it in the AM all over my face and then I use an Ordinary Vitamins C serum at night. So far has been the perfect combination to combat my hormonal acne. I'm on my 3rd bottle.

Love it

So decided to start using some of the ordinary products in my skincare routine and I cant reccomend the niacinamide 10% enough. The texture is amazing goes on perfectly and sinks straight into the skin. I have already noticed it helping with my pesky breakouts as well. If you havent tried this product you need to

Value for money

I have relatively clear skin, but am prone to getting pimples on my chin and jaw line. I feel like this product helped get rid of my pimples in these areas. I have been putting this on over night, as the texture feels quite tacky and I don't think makeup would go well over the top

This product has changed my skin!!!

I cannot say enough amazing things about this product, I am about half way through my second bottle so have given it a good run. There isn't a time this product isn't on my skin since I got it, I apply it after cleansing morning and night. I have sensitive pale, oily acne prone skin that is prone to redness and marks. Since I started using this product I have noticed how much calmer and more even my skin is, the time is takes for my acne marks to heal much shorter and the amount of pimples I am getting has significantly reduced and my oils are kept under control (as much as you can expect, I still get a bit oily on my nose). As my skin is so sensitive I always do a few test patches before putting another on my face but I never had the least bit of irritation from this even around my eyes, in fact when my skin has been irritated from other products I've put this on and found it to be calming and took a lot of the redness out by the next morning.

The product itself plays extremely well with EVERYTHING I have put over it so far. I wear it everyday under my full face of make up and honestly it makes it wear better all while helping my skin at the same time. I put it on as the first product after cleansing (sometimes over Alpha H Liquid Gold) as it's such a light product and then I work to the heavier serums /oils/creams. I will never be without this product again!! A worthwhile investment especially for the price!

Smaller pores

This product helps control the oil production on my face and gives it a brightening effect. My pore size and blemishes have also reduced. Would recommend

Clear skin

I have mature acne prone skin and I have now been using this for a week and there is a noticeable difference to my skin. I have been using it in conjunction with the salicylic acid and neither of them dry my skin out. Highly reccommend especially if you get hormonal acne like me.

Good value for money

Not the strongest Niacinamide serum I've tried but for the price you can't really go wrong! Overall I find this helps reduce breakouts and refines my skin texture.

Fantastic for oily skin, pores and blemishes!

I have combination/oily skin, mild to low acne (used to have bad acne!) and marks from acne in the past. I bought this to help with my acne and my super oily areas of my face.
I have been using it for over 6 months now and I can say that it has 100% helped to reduce and control my oil, which in turn has helped with my acne to the point where i now have next to no pimples. I imagine it has also helped prevent my acne in other not so obvious ways but my skin is looking fantastic and this product was a definite part of this.

I like it

I quite like this serum along with Matrixyl. They work so well together. Leaves skin quite taut too!

LOVE

I love the ordinary. This makes my skin more even, smooth, toned, and soft! An amazing product for the price and lasted a fair while considering the size of the bottle!

Great product

Great results - reduces appearance of pores

This has been sooooo good. I have always had enlarged pores around my nostrils and on my nose. After using this at night for a few weeks I have definitely noticed a decrease in their size and overall improvement in their appearance! Would recommend to a friend.

Didn't do anything

Texture feels like snail serum/mucin and behaves a bit like it as well, like if you rub it on it becomes pasty white but becomes clear once it dries up. Leaves your skin smooth but I don't think it helped decrease my breakouts nor did it improve how my pores look. I use it twice a week after serum.

not sure

Haven't seen any dramatic changes but I am also using tretioin and it seems to work. I will order another bottle to hopefully speed up the process of the tretinoin treatment for acne.

Average texture, great price, fairly effective

I use this in the mornings before TO Magnesium ascorbyl phosphate then moisuriser. I bought this mainly to address pigmentation, redness and sensitivity. I think it's improving my skin, but as I added it at the same time I made some other changes, I can't be sure how much is this product alone. Lately I have noticed more even skin tone and improved skin texture though. I find the texture of the product a little sticky, but fine so long as you are layering other products on top.

Good for spot treatment

Skin type: combination
Skin concern: Dull, dry skin, blemishes on jaw line.
This is the perfect spot treatment. I used it all over my face at first but I found it caused more of a breakout (as I think I had lots of congestion) so now I just spot treat breakouts. It can sting a little when you first apply it but only for a few seconds, then it goes away. The day after putting it on my breakouts have almost disappeared & the redness has gone away.

Good

This product is great on it's own. Hut once incorporated with the ordonarys other products, it starts to make you pill. Which is hard product to add to routine.

Beauty staple

It took a month or so of use to see any dramatic change, but I have had clear skin for the first time in years since implementing this product

Amazing!

I have difficulty removing acne scars due to sun exposure. But this product really works! Magic! doesn' t make my face irritated too! Thanks, Adore Beauty, I discovered this on your website.

Doesnt work miracles but definitely helps

I have quite had acne on my chin and cheeks and I find this really does help dry out my blemishes. It isnt a miracle product that removes blemishes over night but it is quite good for helping dry up spots! I dont apply over whole face - just on my problem areas morning and night after my other serums. I use in combination with the Lactic Acid 10% + Salicylic Acid 2% + hyaluronic Acid 2% + B5

Great value product for congestion

I don't use this every day as I find it a little drying and it clashes with my Vitamin C products. Having said that, if my skin is looking congested and I have any hyperpigmentation I reach for this. Does exactly what it claims to and you can't go wrong with the price.

Good cheap product!

Does what it says for an affordable price

No improvement yet

I purchased this based on reviews stating improvements to skin texture and scaring. Unfortunately I haven't seen any improvements as yet and I'm 90% through my first bottle. I will continue to use but may not re order this product.

Oil control

This really works to control oils and often I don't even need to use my mattifying primer for makeup. I'm no longer as greasy as I was before

Reduces breakouts

Great product, very good value for the price point. Definitely see a reduction in breakouts. Can't really say it's reduced my acne scars at all (as what is mentioned in some of the other reviews).
Will definitely repurchase.

LOVE

I love this product! Makes my skin feel so dewy and brings back that bounce when my face is looking dull.

Absorbs well

I have been using this morning and night as it was recommended for acne-prone skin. It absorbs really well into the skin so is fine to use under makeup when used in the morning. I have sensitive skin so it sometimes stings a little if I apply it straight after washing my face, but I've found that if I let my skin settle a bit in between washing and applying the serum then it feels ok. I need to use it for longer to judge the results on my acne but so far I have noticed a small difference in appearance.

Perfect for when my skin breaks out!

I sub this serum into my nighttime routine (as I use Vit C in the AM) when my skin breaks out and it helps clear up my blemishes so quickly! It also helps other actives penetrate your skin so it's doubly effective! Amazing price point too. I'm 32 and my main concerns are fine lines and pigmentation - I haven't noticed that this serum helps those concerns but it definitely helps those hormonal breakouts!

can't go wrong

great price point, simply can't go wrong with this product. I use it morning & night. Love it!

Amazing for scarring

I've noticed a massive difference to my acne scars since using this. It's lightweight and sinks in easily and without residue. I use it after cleansing and before moisturiser. Definitely going to stay in my skincare routine.

Good for pigmentation

My skin has a bit of pigmentation due to some scarring from prior bad skin and I feel this product has helped not only reduce flare ups but even out my skin tone.

I love this product because it works, and I love the ordinary because its affordable.


Love!!!!

Loving this serum! Gives me such a nice glow and has helped my scaring a bit too!

Great!

I have oily skin and get small rash like pimples across my forehead. This has really helped in controlling these breakouts. I love that it doesn't have a strong odour like other treatments and can be worn under my makeup. Great price too!

Should be a staple in everyone's skincare

Great for evening out skin textures is about the only thing I have noticed that may have helped with this product

Feels great but no real difference in skin appearance

It makes the skin feel smooth and sits well underneath moisturiser, but i didn't see much improvement with my oily, acne prone skin. If anything it made my acne worse BUT I wasn't able to figure out if my acne flare up was due to the product, diet or menstrual cycle.

The reason it may have been due to the product was because my flare up occurred on my cheeks - an area I rarely get breakouts.

On a more positive note, it's very affordable and most people seem to have success so I would recommend new users to trial it out for themselves!

makes my skin glow but also break out

I have been using this product and it is safe to say that it definitely leaves my complexion glowing... but it has produced bumps all over my forehead that I never usually get. I'm not sure if I will continue to use or not.

For a Blemish Free Complexion

This product is a great performance treatment, it is enriched with vitamins and minerals and helps to transform the texture of uneven skin to a flawless finish. One of my must haves.

Amazing for red acne marks

I love this product so much, it has help with reducing the redness of my old acne marks and hyperpigmentation, it absorbs quickly and makes my skin not as oily throughout the day, I am still getting active breakouts but they do seem to heal quicker while using this.

Fabulous!

I purchased this alongside a few of the other recommended The Ordinary items to help with rosacea and I can already see a difference in my skin after only 5 days. The overall texture of the skin on my face has also improved, not just the one part of my face that is rosacea affected.

Pores? Don't know her.

i am using this over a year now and oh my god i love this product so much ! i see a HUGE difference on my skin

Great for firming skin and minimising pores

I use this twice daily after cleansing and before moisturising - it leaves my skin soft and firm, and I believe it has helped with my pores.

A must

Niacinamide is a must in my skincare routine and this price point is amazing this product is definitely a must!!!

sensitive skin

I have really sensitive skin that drys out easily. I'm also really pale and my skin gets sun damaged and shows it. I love this product. I use it every single morning. I can actually notice a reduction in the size of my pores, redness and appearance of black heads. I used to get little bumps on my chin that weren't a white head but weren't a black head, they are completely gone. It tingles a little bit but I haven't had any rashes or irritation. I use this with the Hyaluronic Acid 2% + B5 and Buffet. My skin looks amazing. I would never go back.

A good intro to vitamin B!

I love vitamin B serums for my slightly oily, acne-prone skin. This product is affordable and effective - which is true for every product I've tried from the Ordinary.


Love!

Since using this product my skin has had almost no breakouts and my pigmentation has calmed. Highly recommend!

Staple serum for my temperamental skin

Love it. I'm on my third bottle of this serum and I wouldn't be without it. I use it most days and i think it's really helped get my breakouts under control.

Helps control breakouts

I found this serum helped control breakouts, but didn't totally eliminate them. I use it primarily on hormonal acne which is difficult to get rid of, and it seems to minimise it, but not dry out my skin.

Great

Tightens and makes my skin very smooth. I have noticed my skin doesn't have as much texture after only using it for a week

Yes Yes Yes

Bought this due to the raving reviews and I'm so lucky to report that it is a miracle serum for me.

I've suffered acne since my teens and never ever have I ever had a week without a new pimple coming up - let alone 4 weeks without any pimples - and I'm 39! This stuff is amazing, I've been using it for about 2 months and started out with AM & PM application now just doing AM application only since it's been working so well.

Go get it!! I hope it works for you too! Life changing to say the least.

Great product

I am really loving this product. I use it morning and night. Love how it makes my skin look!just helps blur out imperfections.The only downfall I have is that when I use it under my moisture I feel like it absorbs all the moisture quite quickly. Could be the moisture I'm using tho I'm not too sure but I will continue to use this product.

Really Good Value

Great value, this really helped to minimise my breakouts. I was looking at much more $$ options, and gave this a go first, I am glad i did.

Nice feel but caused break out

I was really excited to try this product but I've been using it in combination with the moisturiser for over 2 weeks now and I've been breaking out the whole time. My skin feels hydrated and smooth, is less red, and is less oily throughout the day but unfortunately it just doesn't agree with me 100%. Oily-combination skin

Not cooperative but works

it does not cooperate with other products so I cannot use it in the morning. but it did show the effect it promises

Noticeable difference in skin since using this

Ever since using this serum I have noticed a difference in my skin. It only took a few days for my skin to feel brighter and smoother. Will definitely repurchase.

Visible results!

Love the concept of The Ordinary and was so happy to receive it within two days in the mail! Although the product is quite thick, it is absorbed quickly into the skin and does leave a slight residual stickiness. However, this doesn't bother me too much. After a few applications, I could already see my pores being less congested (I usually have blocked pores from sebum). Really excited to continue using this and to see its long term effects!

What pores

I have been struggling with breakouts along my jaw and cheeks for a few weeks and was up for trying anything. In such a short time this stuff has really reduced the size and length of time my pimples last and have minimised the size of my pores along my nose and upper cheek area. So so happy

Not sure

Not sure this product has done much for me but have definitely heard good things from others

Best Ordinary product I've used yet!

Absolutely loving this product! I don't think I've had a single pimple since I added this into my routine am & pm.

Goodbye pores

Dramatic difference in skin tone and pore size in such a short time. Amazing!

So cheap yet effective

I can't fault it so far, i use it on my chin as i get acne there, really works well after my derma roller!

Favourite Ordinary Product

I have tried a few Ordinary skin care products but unfortunately have not liked the majority of the line. However I kept reading great reviews for the Niacinamide and thought I'd give the ordinary another chance and so glad I did. This is a beautiful serum and after a week of use I can see great improvement to my forehead; I get little pimples near my hairline and these have all cleared up, plus my skin texture has somewhat improved. Will definitely be making a re-purchase!

Clear Skin!

I bought this serum for my Mum who was struggling with some breakouts and it cleared up her skin so well. She has since repurchased it! Amazing product.

Does miracles!

A great product at a great price. I used it on my shoulders, chest and back (acne-prone skin) in the evenings after my showers and there is such a difference. The only con is it stays slightly sticky but nothing extreme or uncomfortable. definitely worth the purchase!

Not for me

I found this made no difference in the appearance of my skin, and instead made it look worse! I have skin that is very sensitive and often prone to breaking out in a rash with some products, unfortunately this was one of them.

Best product I've ever used!

This product has been the best for my skin! I have cystic hormonal acne coming from having PCOS and this and other The ordinary products have ensured that my skin is clear and glowing the majority of the time! Plus the prices means that it is affordable especially when you have kids!

Not for me

I wanted to love this product as I've heard its great for break outs but it just made my skin worse and was too drying

Clear Skin

Love this product. Clears and tones my skin to perfection. I will use again.

Great for scarring

I bought this product to try and help some dark acne scarring on my lower cheeks as I'd tried so many different things and because it was so cheap didn't mind trying this as well and I am so glad I did. Immediately after the first use the scarring faded significantly and it really helps get rid of and heal breakouts faster. Use it every morning and night after cleansing. It's also help oil control. Even though it's small, my first bottle lasted around 3 months.

Good

My skin feels nice after using, it layers well. Haven't noticed a different in my skin yet but I have only been using it for a few weeks at night.

Luxury product at an affordable price.

This serum is amazing. It brightens my skin and shrinks my pores. I'm very new to The Ordinary but love the luxurious experience you get for drugstore prices. I had noticeable bumps on my neck and one night after applying this serum, the bumps went down considerably. This is a must have and it's no brainer.

Loooove This!

It is not very often that I can tell a difference in the size of my pores, but this really seems to do the trick! I use this most mornings and sometimes in the evenings (not when I use Vit C). It has been one of my favorite products to date!