The Ordinary Hyaluronic Acid 2% + B5 30ml
Skin Concern:
Acne, breakouts and blackheads
Dull, dry or dehydrated skin
First signs of ageing
Sensitivity and redness
Skin Type:
Dry
Normal to dry
Normal to oily
Oily
Frequently bought with
Please wait while we find a match
Questions & Answers
(28 Questions)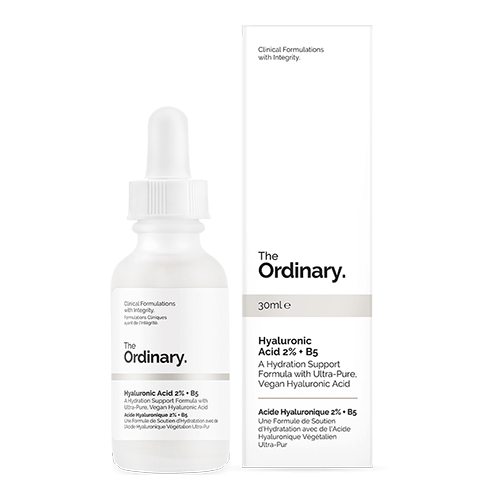 The Ordinary Hyaluronic Acid 2% + B5
Get an expert to answer your question about this product!
Ask a Product Question
90% recommend this product
Most Helpful Positive
Great skin care basic
Good to mix with powders from the ordinary
Most Helpful Criticism
Sticky
This product has a very sticky feeling to it although I love the price and it does hydrate my skin. I find its not as sticky once you apply your moisturiser!
Great skin care basic

Good to mix with powders from the ordinary

Best $12 I've spent on skincare

This has made a noticeable difference to the texture and moisture in my skin. Since using this the past 3 weeks I have had compliments on how "fresh" my skin is. Love using this on my neck as well to soften fine lines

Instant absorption and skin loves it

I use this in the AM as my first layer before applying moisturiser and makeup. Even after using actives overnight my skin drinks this up. Although it may feel tacky to begin with, that texture dissipates and provides a good base layer for other products. I have noticed that it has helped with keeping my skin more moisturised throughout winter.

Great product

This is a great product for your skin regime. It gives great hydration and made my skin feel nice and plump. I'm someone who struggles with spot pimples and this definitely didn't give me too much hydration:P

Good

This serum is good. The price is okay and it is easy to use. The serum is hydrating but I do find it too sticky to my liking. It feels almost like egg whites and I find that it sits on top of my skin.



Awesome Product

This is an awesome product! I believe this works best in humid conditions and not dry conditions, but I've been using a humidifier which has been helpful. My skin is definitely looking a lot more hydrate! Would recommend this product.

not sure

I am not sure about this one. I feel like whenever I use it it makes my skin dry. I dont even feel like it does anything else. I have had better hyaluronic serums before

Love it

Onto my second purchase of this bottle. I've got normal to dry skin and I've really liked it as a before moisturiser serum that makes my skin feel SUPER soft and smooth and well hydrated. Definitely recommend waiting for it to dry down after application, and then following with a moisturiser! Really impressed w this out of all of the Ordinary products I've tried so far. For the price it's worth trying out!

I like it but.

Super hydrating and effective. A great pick-me-up when needed, eg. Melbourne winters or around long flights. However, I only apply at night because it layers poorly and pills. It's super thick and sticky.

Skin feels so hydrated and supple

This is amazing especially using after skin needling. My skin is so fresh and supple, doesn't look tired and dull and is no longer dehydrated.

Good staple product

I'm very happy with this serum. My skin texture has evened out and looks healthier.
I highly recommend this product.

Hydration

This makes my skin feel very full and hydrated. Loving that I added this to my other collection of The Ordinary range

Great for dehydrated skin

This feels amazing on my incredibly dry and dehydrated skin, especially during winter. Essential to pair this with The Ordinary Moisturizing Factors to get the full plump and hydrated effect.

Game changer!

In my mission to defeat my postpartum parched skin, this little bottle has absolutely restored my severely dehydrated skin.

My normally oily/combo skin took a big blow post birth and with breastfeeding, but in just a few days there has been a huge difference to the quality of my skin.

I paired this with The Ordinary's Moisturiser for the mornings, and follow the HA + B5 with 100% Squalane in the evenings (no moisturiser).

Highly recommend – skin feels more dewy and hydrated and people around me have commented that they notice the difference.

Skin supple & smooth

I have used Hyaluronic Acids previously however new user to *the ordinary* I found their product alot smoother and less tacky than other products, I am impressed with the results after 3 weeks, my skin no longer feels dry and lines are more plumped and smoother on touch. I also now use this product after a 80 per cent lactic acid peel, it speed up the healing time assisting hydration and aiding healing time.

Meh

I find this does literally nothing, not the best or even the cheapest hydrator out there.

SO good

I was recommended this by a makeup artist. I love using this before applying makeup, especially when my skin is dry and flakey. This provides an instant smooth canvas for makeup!

Great product

So hydrating and such a good product. Will definitely be re-purchasing.

SO HYDRATING

I use this in the AM and PM, and although it is a little sticky after figuring out the right amount to use I love it.

simple HA

Feels a bit sticky once you've applied, but definitely helps me with dry skin in winter! Comparable to higher end stuff like Hylamide in my opinion

perfect serum

This serum is great if you need some hydration.

Value for money B5

Good texture, easy to apply and absorb, great value and great moisturisation.

Hydrating

Good serum to add on, quite sticky but if you let it dry a bit before applying moisturizer on then it doesn't feel like you are just moving product around. give it time to settle on the skin before the next step :)

Great brand

this product works very noticeably and to be able to add more to your moisturiser as you need it is just so clever and convenient.


need to mix with other serums

On its own is too sticky to use. I mix it with a few other serums and my skins loves it.
Really suitable for oily skin. When I use this I find that my skin is normal and does not break out. It hydrate my skin.


Fantastic!

Works great on acne prone skin. Even when there is no visible acne!

A bit tacky

Nice serum leave skin glowy and clear would suggest night time use only as it stays a bit tacky. Has really helped my dry dehydrated skin and given it a boost

Sticky

This product has a very sticky feeling to it although I love the price and it does hydrate my skin. I find its not as sticky once you apply your moisturiser!

Refreshing

I have dry skin so I'm always looking for ways to boost the moisture. I tried this product by itself and I have noticed a small difference in how my skin feels. It has a nice smell and is quite refreshing to put on during the day.

Good product

Great if you have extra dry skin in winter. Has a bit of a sticky feel, but this goes away quickly. I lather my normal moisturiser on top of this and it makes my skin feel great in the morning

first time use. Great product

Good for dry/senstiive skin, not suitable to put in the morning though,

Hydrating

Great

Great product. I use it everyday, it really hydrates and helps other products sink into my skin. I recommend. Fantastic price. I will continue to repurchase.

amazing product!

ive always wanted to use the brand "the ordinary" because i have always heard amazing things about it. i read an article on here about my skin concerns (acne and oily prone skin) and finally bought the products. i dont regret this purchase!

Does what it's supposed to

Effective. Skin tighter, softer and clearer in complexion (I'm 42 years of age). Non-irritating (skin sensitivity being an issue for me post pregnancy). I absolutely hate paying more for something when I dont need to, so am loving the price point on The Ordinary products - I have the entire range.

Good hydrator

I use this occasionally when my skin needs extra hydration and it leaves it feeling fresh and plumped. It's very light and you don't need much of it which makes it last longer

Very happy

I have only recently taken up a new skin care regime, so was looking for value for money products to get me started. I was keen to try The Ordinary, and after contacting Adore Beauty who were extremely helpful, this product was recommended to me.

I have sensitive blotchy skin usually. So far I am really enjoying this product, its slightly sticky, but absorbs quickly. I have noticed a big difference in my skin since using the Ordinary Products Daily, my skin definitely feel more plump. No scent and not too strong for my sensitive skin. Im not sure how this would compare to more expensive HA, however feel that its great value for money and very budget friendly!

Hydrated skin

Skin isn't flaky even after a derma. Feels and looks hydrated

Awesome

Great to help with acne prone dry skin. Really moisturising and nourishing to help with a clear complexion

Holy grail product!

I use this every night after cleansing and toning but before moisturiser and in the morning my skin is supple and hydrated! I'm not sure why people are saying it's too sticky, you're supposed to put moisturiser on over the top so it shouldn't be an issue! Either way, I love it because it's effective and so so cheap! I will always repurchase this :)

Did Aqua Man just jizz on my Face?

This stuff is amazing, you only need 3-4 drops and after about 30 mins my skin is so soft and full. Everyone asks me what I use and this is it. On a foggy day your skin will drink up every single water molecule in the air.

Tightening, non-irritating

I have very sensitive, dry and dehydrated skin. I've found that popping this product on immediately after a shower tightens my skin, but is never an irritant. I add a rosehip oil on top, and together they soak in and create a soft, hydrated base. I don't think you could get away with using this alone if your skin is very dry.

Can't wait for Adore to stock the 60ml!

I use this as part of my AM and PM skin routine and wouldn't be without it. I use it as my second step, after an cleanser. I do make sure that my face and hands are completely dry before application otherwise the product suds and doesn't distribute as evenly. It's quick absorbing and scent free! Love it.

Affordable and effective

I been using this serum for few months now. Quite hydrating. It take abit of time to sink into the skin tho but definitely work and keep my skin hydrated. Very affordable so cant complain.

it's the best hydrating serum which makes my skin very soft and plump.

I am using this product since 9 months now and its really amazing very hydrating makes my skin very soft. I use it daily in the morning after washing my face with my face a little bit wet and it is abrorbed very quickly leaving my skin very soft and supple. I would definitely recommend this product because there is no going back i am buying it again and again a must product in my every day skincare routine.

Awesome

really evened out my skin tone and hydrated my dry patches, my complexion looks very radient with continued use

Affordable, hydrating and easy to use!

This product is super affordable and very hydrating. My second bottle and would re-purchase again!

Love it!

I've been using this for almost a week now and my skin is noticeably plumper and softer i noticed my frown lines aren't as noticeable and my skin even feels and looks my plump! I've noticed I'm not needing to use so much moisturising cream too, as I have eczema and would usually smother myself in cream, this has really helped with my eczema in such A huge way! It's mafe such A huge difference A little sticky whilst drying but

Love this product

Iv now been using this product for months my skins now smooth and it realy does make the perfect base for moisturisers.
When I don't use this my foundation fades my pores look larger and my skin isn't as smooth.
My skin feels tight aswell when first applied I just love this product and it's so cheap to witch is great.

Provides hydration

During winter my skin becomes really dry. My skincare routine was almost nonexistent until my friend suggested I use this product to help with my dry patches. This product provides hydration to the skin and has minimised the dry patches on my face. Initially when I started using this, my skin was adjusting and caused a couple pimples but after 2 weeks or so they all disappeared and now my skin feels smooth and looks plump

5 stars

I started off slowly over a few days with this HA. I have dry skin, so it was very welcomed!!
I use it in the morning then put a moisturiser over it, and my skin feels amazing!

have only been using for a week

I have only been using this for a week, i bought the suggested regime for anti-aging, my skin does feel smoother but i think it's too early to tell exactly the effect it has taken on my skin, when i apply my makeup after i have applied the morning regime i think my skin is either exfoliating or i'm doing something wrong because i have to remove a whole bunch of stuff that bunches up and collects in my face after application

Plumps my skin

This plumps and hydrates my skin very well. It leaves a bit of a sticky residue, but I follow this with my moisturiser and that seems to get rid of any stickiness. I love this and for the price it is well worth it.

Beyond amazed.

Beyond amazed with how good my skin feels within less than a week of using this product! I had little dry patches of skin on my face prior to using this, and now, my face is anything other than dry. My makeup sits so much better on my face, this is definitely in my skin care routine now.

great affordable daily serum

This is the first 'The Ordinary' product I've used and I'm quite impressed. I was a bit skeptical based on the price point but after reading rave reviews decided to try it out! My skin feels very hydrated after using!

I love this stuff!

I'm 33 with adult acne problems, I've tried countless face products and this has been the best result by far out of any. After about a week of using this and the night cream daily my skin showed significant improvement, highly recommend this as part of your daily routine

Great serum!

I find this serum to be a great beginner serum to add into your daily routine under a moisturizer. It leaves my skin feeling soft and hydrated. It doesn't get oily and doesn't create shine, if that's something you're worries about. I definitely would recommend this product to my friends and family and live by it.

Worth buying for dry sensitive skin

Very impressed with this product I generally have dry and slightly sensitive skin and I found this product to be light weight, you don't need much as it goes far when applied, and I saw a quick improvement in the way my skin looked it is much more softer , I would buy it again

Sticky

I'm just not sure about this product. It has a tacky sticky texture which puts me off. I love the brand for the cheap price point but I didn't notice much of a difference using it on my skin.

Brilliant

Really good product, soaks into skin always feel refreshed after using skin has never looked better

Amazing

This is one of the best products I have ever used. My skin has been breaking out like crazy lately and I couldn't pinpoint what was going on, I ended up concluding that my skin was retaining no water so I decided to give the ordinary a go and I am not disappointed. I bought this product and the niacinamide, since using both of these my skin has started to clear and I couldn't be happier, I brought another 3 products from The Ordinary and I am so excited to continue using them.

Cheap and moisturising

I suffer from dry, sensitive skin but found this to be very easy to use. Definitely recommend applying immediately after cleansing face but before applying oil based products, eg moisturiser, for maximum effect. Only con was that after a while it was as if the product lost its touch and it was no longer doing the trick. I had to switch to the Buffet serum thereafter.

Perfect cheaper option

I use to use a more expensive brand of Hyaluronic serum and this one is exactly the same only so much cheaper! Skin feels plump and hydrated every morning! Even got my husband using it!

This made a big difference to my skin

I have an oily skin type and was apprehensive to try this product, I was worried that it would make my more shiny throughout the day and would have awful affects on my makeup but man was a wrong! As long as you let this product soak in before applying a moisturiser and makeup this product is amazing! My face is so much more hydrated and doesn't product as much oil throughout the day which is amazing for me. I would say that is you are starting out with this brand this is the best product to try first up.

So hydrating

Felt a change in my skin almost immediately. Now it glows. A little sticky after application. I just pat towards the end of application and wait for it to completely set into skin before adding the next product. Love it!

Affordable but not that effective

I purchased this hyaluronic acid as my normally combination skin has been super dry in pregnancy. I didn't want to spend too much money as it only needs to last me until the end of my pregnancy (after which, I'm sure the oils will come back with a vengeance!). The product is ok for the price, but not as good as the Medik8 hyaluronic acid (which I've tried as a sample). It doesn't have that tacky feeling after application, which it should, and I find that it pills under my facial oil, so I can only use it during the day. I will continue to use it for the sake of using up the bottle, but would probably splurge next time on the Medik8 version.

Hydration Sensation!

I have really dry and sensitive skin, and this product gives me the extra moisture I need! I put it on in am and pm after cleansing and before oils/creams. It leaves my skin plump and hydrated, without having to slather on thick creams. And of course the price and cruelty-free status makes this product a no brainer, 100% would recommend from dry skin, or people need in need of hydration pick up in winter

Amazingly good

Took a couple of days for my face to get used to (I have very sensitive skin and haven't used anything like this before).

But now I always use it
My face feels for dewy and fresh after use. Where as normally I have quite dry skin especially around my eyes and cheeks. Problem solved

I use it before a moisturiser or even spf and makeup
It's fantastic

Would definitely recommend

Only issue I have is the dropper. I find it hard to regulate the correct amount
I usually just use the side of the dropper to 'wipe' product onto sections of my face and then tubing in

Unsure

I like the price point of the product but I'm not sold on the texture, leaves a sticky residue on my skin

Very hydrating

Very good serum, give my face the glow look :). Only thing is it a bit sticky when newly apply.

BEST HA & value for money!

Have re-purchased 5-6 times now, I use it very generously, morning and night, mixing it into other serums or alone, depending on how my skin feels. Using it more often in winter. I love the weight and feel. Dries nicely so I can layer up serums and my moisturizer, doesn't leave me sticky. Once absorbed I just feel like my skin has had a little drink. Haven't found another HA I prefer, will continue purchasing especially at such a good price.

Love this!

I use this morning and night and I love it. It keeps my skin hydrated and looking great, the price tag is a bonus too!

Not effective for me

I have combination skin. I'm disappointed this did not leave lasting moisturizing effect on my skin.

Great for dehydrated skin

I had really dehydrated skin from my skin purging so I got this. It has a really watery, serum consistency that feels really nice on the skin. Now I use it when my skin is feeling a bit tight, morning or night.

Good for oily skin hydration

Having oily skin which does not accept any type of cream, gel etc moisturizer without a breakout, this is awesome stuff. Light enough, absorbs quickly, I use it most when I've done some exfoliating & my skin is on the dry side.


So hydrating!

Great serum, leaves my skin very hydrated. Sticky initially but once absorbed it's not sticky.
Very happy with my purchase :)

So plump

I suffer from quite dry/sensitive skin and this has definitely given my skin a boost in appearance and hydration. My skin also looks so plump when I apply it with the rosehip oil and has made all the difference

Results within a matter of days

These are one of those products where you see results within a matter of days, and there arent too many products like this one out there! When in doubt, just buy and try. Its only $10ish bux, and 100% you will feel the difference

Affordable

I love using this product morning and night! It definitely feels moisturising and I will continue using this product.

Best for exfoliating and brightening

I use this 2-3 times a week and is amazing for exfoliating. I have stopped using physical hard scrubs since I've started using this hyaluronic acid. It also brightens my skin beautifully

A must have

I've tried the drunk elephant Hyaluronic Acid and found that this works exactly the same but for a fraction of the price. Good to mix in with face cream, mix with serums or just drenching on your face on the dryer days.

Amazing hydration!

I have combination skin but in winter it can get very dry and dull. I use this before applying my makeup and it gives instant smoothness and hydration! I can't go without this when my skin is dry. Will highly recommend!

Absorbs into the skin quickly and leaves skin feeling plump

I love this serum. It is a little bit tacky/stick but this goes away quite quickly. I apply it morning and night before my moisturiser to give my skin an extra boost. It always leaves my skin feeling plump and hydrated. It also wears nicely under makeup.

Great but a bit sticky

Found using on its own as a layer sticky, but works great for me when I mix it in with some HA Moisturiser.

Essential

Ordered my 4th repeat! Can't get enough, nothing gives a deeper lasting hydration than this

Okay

I have acne prone, dry skin and I've purchased two bottles now to see not much change. I know for the price it's okay, but not super hydrating. Also it's a little tacky. Will be upgrading to a higher price point for improved results.

So GOOD!

After I learnt how to use this product properly, absolutely amazing! It is better for it to go on damp skin rather than dry, it absorbs so much more and leaves my skin feeling so hydrated! When I wasn't putting it on damp skin, I was finding after a while my forehead (the driest part of my face) feel hard and very dry. Would recommend

Good for the price

I found this to be an ok serum, definitely good for the price. It didn't absorb into my skin as well as I hoped and felt sticky.

Affordable and amazing

This serum is the first one I've ever tried and quite frankly the last one I'll probably need to try for moisture. I use this everyday twice a day under my moisturiser and my skin has never looked or felt better, I would definitely recommend this product to anyone.

Effective and great price

I had never tried The Ordinary serums before and thought this one would be a good place to start. It's definitely not the best serum I've ever used but for the price I think it does a good job.
Despite being a water based serum, I find the consistency quiet thick and sticky. For this reason I only use it as part of my night time routine. Having said that the morning after using it my skin feels hydrated and plump.
I would recommend giving this a go, as for the price you can't really go wrong.

Love it!

I use this morning at night and mix with my moisturizer. Make my skin feel like it look dewy and more youthful.

My dehydrated skin is gone!

This product is just amazing no lie. I have been having dehydrated skin for a very long time and no matter how much I hydrate by wearing layers of moisturizers, it still doesn't work and then this product I came across and it has changed my skin so much! Honestly highly recommend it!

It just makes your skin feel like it should

You know when you have those days where your skin just feels dry, rough etc.. like a bad hair day but your skin?? well you just don't get that when you use this.
I have been wanting to try this product. It basically simulates your interstitial fluid. So it's like a moisture and barrier. They also use it in derma pen needling (which I swear by).

It's cheap... just try it.

Just dont rub it in.. it kind foams up. Just place a small amount on palms, gently move around breifly then pat on face. Let dry before adding anything else. Less is best.


It's ok

This product is ok. It's a bit sticky. I've not really noticed much of a difference in my skin since starting to use it. My moisturizer already has HA in it, and so I'm not sure whether using this concentrated product is also beneficial.

I probably won't purchase another bottle of this product.

Love it!

This was my first TO product purchase. After recently turning 30 I decided it was time to start taking care of my skin. After 3 weeks of using this my skin is less oily and looks much healthier

This stuff is the bomb!!!!

I have rosacea and my skin can go very red even when it isn't flairing up

Loving this

Great to give my skin an extra boost! Loving it a lot

Very hydrating

I have really noticed my skin has not been dry since using this serum. It goes on nicely and sinks in quickly. I usually struggle in winter with getting dry peeling skin but this has not been an issue this season. I've just finished my first bottle and would purchase again especially given the low price point

Perfect product

Super absorbent, hydrating, smoothing. Just make sure your face and hands are completely dry before application or it becomes kind of soapy in consistency and therefore doesn't absorb evenly. Highly recommended! An essential!

Skin feels fab

This product is perfect under my moisturiser, and keeps my skin feeling great allday