Real Techniques Expert Face Brush
Frequently bought with
Please wait while we find a match
Questions & Answers
(No Questions Yet)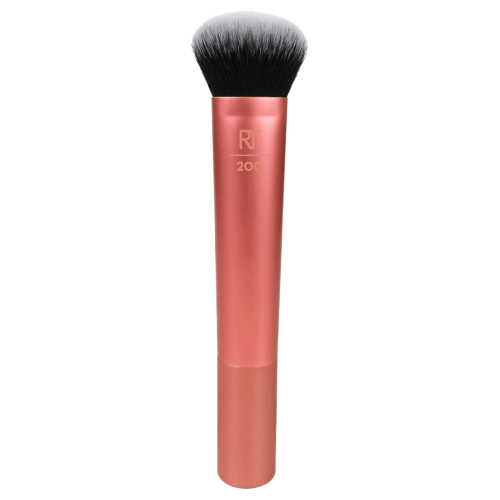 Real Techniques Expert Face Brush
Get an expert to answer your question about this product!
Ask a Question
96% recommend this product
Most Helpful Positive
Great foundation brush
I LOVE this brush! My foundation application has never been better!
Most Helpful Criticism
love this brush
great for a foundation brush but can also use it for a blush brush or even a powder one! can be used as a multi brush!
Great foundation brush

I LOVE this brush! My foundation application has never been better!

Best foundation brush

I love this brush! Perfect for foundation, blends so nicely on the skin and such good quality!

Best foundation brush

I love this brush! Perfect for foundation and such good quality!

love this brush

great for a foundation brush but can also use it for a blush brush or even a powder one! can be used as a multi brush!

good quality for price

This brush is so good for anyone looking for an everyday decent-priced brush with great quality It's incredibly soft bristles make it excellent for buffing and blending liquid foundation/concealer. But it's a bit small, which takes a bit more effort to use, and I've had a few loose bristles here and there.

Beautifully soft

A beautiful extremely soft brush that makes my skin and foundation look flawless

Best brush!

I love this brush. It is amazing for applying and buffing foundation and doesn't leave foundation looking streaky. If I don't use a sponge, I reach for this brush. It's also great to buff over blush and bronzer if too much has been applied.

Love this for foundation

Love this brush to blend foundation, gets to all the hard to reach spots around the nose and chin but blends colour beautifully.

Good brush

Love this brush. Use it everyday to apply foundation. Great at blending and does not soak up much product. Have similar brushes from other brands but would defiantly recommend this one

excellent

this brush is so nice i love it and it makes applying foundation so easy

Great brush

I really like this brush, it blends my foundation evenly and gives a great finish. The bristles are so soft. Highly recommend.

Better than i expected.

This brush isn't just good for foundation you can also blend cream highlighters, concealers, everything. happy with this!

the ULTIMATE brush

This is the most perfect brush for light-medium coverage foundations, cream bronzers, blushes, and highlighters! Blendes products like a dream and helps meld all the products together so it looks perfectly blended and flawless. I don't think the brush is as great for full coverage foundations, as it does leave brush strokes but quickly using a damp beauty blender afterwards solves that really easily. It's also such great quality, that it's hard to remember that it was less than $30!

great for applying foundation

great brush for blending in foundation and streak free. brush also doesnt absorb all the product which is great

Affordable foundation brush

The best!! Really good value. I have owned mine for years. Doesn't shed and buffs foundation in awesomely

Great for foundation

This brush gives skin a flawless look. I've had mine for a few years now and it's still in really good condition

flawless application

i have used this for years to apply foundation. it gives me flawless full coverage and does not soak up any of the product. would definitely recommend

The best foundation brush!

100% recommend! Ever since I got one I have told all my friends to get one and they love them. It easily blends your makeup, effortlessly and precisely. I would never go back to any other foundation brush. I clean mine weekly, and never seem to have hairs come astray either!

GREAT Affordable brushes!

I really Loved this brush. I think it's great quality for so cheap, super soft and applies product so well!! I have this one in my brush kit today, and will continue to repurchase. LOVE

Best Foundation Brush!

I have been using this brush for around 5 years and it has never let me down - perfect for applying foundation. Will keep repurchasing again and again and again!!

Great Foundation Brush

I love this brush from Real Techniques for when I want a slightly more full coverage look to my foundation (I often use a beauty sponge or fingers to apply). The density of the brush gets the product on really well, and blends it out evenly without streaks. Whilst it seems some think it is too small, I find the smaller size and shape of the brush works well for really getting the product everywhere around the face (eg, around the nose etc.) Would recommend if you are looking for an effective and long-lasting foundation brush.

Real Technique is amazing in general

Great brush for blush & powder application. I like it

A go-to

Love this brush for my foundation, have had mine for over 5 years and it still works like a legend. Definitely a long-lasting brush and does exactly what I want it to do.

NOT BIG ENOUGH.

THIS BRUSH DOES WORK WELL WITH FOUNDATION BUT IT IS TOO SMALL FOR MY LIKING.. I MUCH PREFER THE LARGER FLAT TOP BRUSHES AS I FIND THIS ONE TAKES TOO LONG TO BLEND MY ENTIRE FACE.

GOOD QUALITY... MAY TRY FOR CONTOURING.

Awesome

Love the brand as the price is really low for how great the quality of the brushes are. I think this tool has helped make my foundation nice and even on the skin.

Undecided

I bought this brush with the intention of using it for foundation but I feel like it did not work very well in that sense. I am used to a flatter topped brush so this could be why. I am using it as a blending brush however and am happy with it for that.

best foundation brush

The best foundation brush for the price point. Before this, I used to use a flat foundation brush to apply foundation and then a flat top buffing brush to blend it in. This brush does both. It's dense enough to pack on product but fluffy enough to buff it in. It makes applying foundation so much faster and more seamless

Great

I always reach for this! perfectly fits around the face.

Go to contouring brush!

This is my go to contouring face brush - it's soft and easy to blend with, yet dense enough to give me a defined and sculpted contour. Definitely recommended!

good foundation brush

I keep this in my makeup bag for foundation and concealer!

Great quality

Perfect brush for applying foundation. It applies foundation evenly onto the face. It is also a great price for the quality.

Must have for quick, effortless and flawless application.

Being a mum of a toddler, I am very limited with the amount of time I have to apply my makeup. This brush has ticked all of my boxes! It is so easy to blend out and gives perfect coverage, the handle is so comfortable to hold and maneuver. It helps cut down the time in which I apply my make up. And my favourite of all is that I don't waste anywhere near as much product as I do when I use a Beauty Sponge! Oh and it is so easy to clean, also dries rather quickly as well! It is so soft yet has the right amount of firmness. This is my go-to! I highly highly recommend!

Great brush for foundation

This brush is great for a flawless finish of foundation. I've been using this for years and I always love the results it gives

Affordable Foundation Brush

Great brush for foundation, super soft bristles which doesn't absorb too much product. I usually go over my foundation with a sponge after using this just to press it into my skin, giving it a more flawless and blended look.

Excellent quality brush for blending foundation

This is great quality makeup brush, I use this to apply my foundation and goes on very well. Highly recommended

Great Quality Brush

I love this foundation brush! It is of a very high quality, with super soft, high density bristles. It makes smoothing out foundation a breeze. Sometimes I will use the brush to spread out the foundation and then bounce the Real Techniques sponge to create a flawless finish.

Best Foundation Brush Ever

Real techniques brushes are always high quality however this one has quite a small surface area for a buffing style brush - so allows you to get into all the cracks and creases. I love it

Nice

One of the best affordable brushes. Definitely a must-have, highly recommended!

Good Brush

I love using this brush for my new Clarins Skin Illusion foundation. Goes on and blends perfectly with no streaks and even. I have had it for a few years now and I think it does better at applying lighter more serum like products than heavier products.

Such good quality

Love real techniques brushes they're such good quality they've lasted me so long. I love this brush I use it as a buffing brush, the brisles a shorter and a little firmer which makes this amazing to spread and buff out any liquid foundation!

SO FLUFFY

This makes your foundation spread like a dream , it always looks absolutely flawless, never any fall out from the brush and is so soft.

Flawless makeup application

This is the second time I've purchased this brush which shows how much I really love it. I use it to blend liquid and cream foundations and it makes application a breeze. The bristles are soft but dense enough to prevent streaks.

Streaky

Bought this before beauty sponges became huge and was looking for a good way to apply foundation and thought this was the answer because I always heard such good things about it. Unfortunately it made my foundation EXTREMELY streaky. Especially on my nose. I had to pat out the streaks with my fingers and really had to finesse the foundation in with this brush. It also feels kind of scratchy on my face. I don't think the brush is the best quality or dense enough for foundation. Wouldn't really recommend it for how it worked for me.

Good for heavy foundation

Firm and blends great, only bad thing is that my brush has deteriorated and some bristles have come loose after a few years of use

Great for foundation

At first I thought this was too small for foundation but after using this multiple times I really like it. Small enough for precision and no streaky lines.

My daily go to!

I have loved this brush for years. I use it to apply liquid foundation to my face and love the look it gives. it is easy to hold and doesnt shed.

Small surface area

Real techniques brushes are always high quality however this one has quite a small surface area for a buffing style brush - so I just think it takes too much time and effort to blend everything in.

Excellent

I love to use this when I'm doing a heavier coverage look, blends great

Great

Must have Real Techniques brush for liquid foundation application. This is a dense brush, blends foundations in really flawlessly, washes well and retains shape. Also great at buffing out cream contour and blush.

was expecting more

i got this brush expecting that it would give that air brush look to my foundation. tried with many different foundations but it always leaves foundation streaks on my face. i have dry skin maybe that is the problem. but now i use this brush for blush which has worked fine for me.

Blends well

Great for blending heavier coverage foundation

Foundation goes on flawlessly

This brush is amazing - I use Too Faced Born This Way liquid foundation & have always struggled with a nice finish with no streaks etc. This brush feels so beautifully soft on my skin & spreads my foundation beautifully. I'm not a fancy brush person so I am pretty stoked that it is so affordable too!

Favourite blush brush

I have been using this brush for years as my blush brush! I absolutely love it!

Great coverage

Many of the brushes I've used in the past don't have the great coverage that this brush does! It flawlessly applies foundation and you can build coverage without it being cakey. Blending is super easy too and it leaves no lines or distinctions.

Use it everyday!

I use this brush everyday to apply my foundation, Perfect seamless application - with little effort. Easy to wash and the bristles dont fall out. Great price point!

One of the best

I use daily when I'm putting on my foundation as it doesnt absorb much product hence, I dont need to pack on my foundation when I'm using it. It blends out my foundation seamlessly. I've been using this brush for years now and will never go to another brush again.

Love it

It's super soft and wonderful at blending in foundation. Creates a really lovely finish without leaving really obvious brush strokes, as some other brushes do. Easy to get into the corners also cos it's soft. Really affordable price too!

Great value & Quality

I've been using this brush for about a month now and its really great quality for price. Really soft and doesn't seem to lose any bristles (Yet).

Easy to blend

Great foundation brush, blends everything perfect

Soft brush & great value

I recently purchased this brush and in the mini size and its really soft and great for applying foundation. Very happy with purchase!

Value for money

If you're after a good brush on a budget, this is a great option. It's soft and plush, bouncing back to shape after each application. It does absorb a lot of product though and can be quite tough to get out even with good brush cleansers. I do have more expensive brushes that don't seem to have this problem, but I still think this is a great brush for the price.

Undecided

I'm not sold on this brush but perhaps I'm not using it correctly. I prefer to use a regular foundation brush for liquid foundation. This does do a good job of buffing the foundation in after it's already applied, but I usually use a sponge for that.

Wonderful

I've been using this brush every day for one month now and no bristles have fallen out, it's lovely and soft and does a wonderful job at applying my foundation and cleaning up around the eyes. It also cleans very well and I'm not there for ages trying to work the foundation out of the brush. Love it!

really good for the price

I love how dense the brush is which helps to apply product evenly

Flawless finish

This brush is great for blending heavier foundations for full coverage and a flawless look. After using this brush for around 2 years daily the bristles have come loose from washing the brush so much so will be repurchasing!

Great brush

Fantastic brush - Super soft & great price. Good size to get into those tighter spaces on the face. I think it applies foundation smoothly. Great starter brush!

Great

I use this brush for contouring and find it works really well. You can't go pass Real Techniques brushes. I have added this one to my collection.

Great brush especially for the price!

I use this for my cream and powder contours, been using for almost a year (washed many times) and is still holding up so well! Great price and definitely would recommend. Soft and overall good quality!

Good

I really like this for putting on my foundation as it doesn't soak up the product at all, however it can leave streaks so I like to go over it with a sponge just to smooth it out.

Pretty good

a nice brush that I use for a variety of different things! super soft and easy to control

Perfect for foundation

I love this brush for blending out my foundation. It helps distribute product evenly and ensures the coverage for the foundation is still on the skin. One of my favourite ways to apply foundation.

Great

Wonderful for blending foundation and concealer in bigger areas!

Undecided

I wanted to try out a new foundation brush after years of using the Sigma f80 and this brush had great reviews. Personally, I much prefer the Sigma for a more full coverage, even and quick application. However, there are benefits to this brush that the sigma doesnt offer in that it really gets into difficult areas with ease; nose, around eyes. I think it would be a good brush for contouring which is what I will probably use it for.

Great

I used to use this brush to help apply my foundation, but have gone off using foundation altogether. So I now use this brush to buff away any excess blush or bronzer that I may have applied to heavily. It is a fantastic multi-purpose brush that you can use for almost anything. I love the Real Techniques range!

Does the trick

I have bought and rebought this brush many times over the years. I use it daily to apply my foundation evenly and streak free. It is fail safe and a great way to blend makeup into the hair and jaw line.

Amazing Brush

Recommended it to all my friends such a great brush for foundation makes it so flawless.

Good

I liked the old version of this as it blended my liquid foundation really well, but I feel like they may have changed it? Or maybe I got one which wasn't packed tightly enough, because I feel like my new one blends my foundation a bit more streakily than it used to. It is good as a final product to use once already having blended out foundation to smooth it over as a last step, but not the best for the whole procedure of applying foundation. Still good though.

Fantastic Brush

Ive had this brush for literally years and its still amazing! i really like using it for liquid foundations and building the product up with this and its great for that. It can be a little bit streaky but i just go over it with a sponge but otherwise this is a great brush.

Great for powder foundation

I recently bought the Bare Minerals Blemish Remedy powder foundation as I wanted something light and something that will actually help my blemish prone skin.

Being a liquid foundation girl, I had no idea how to apply and blend the powder foundation in - I was recommended this brush and it does the job brilliantly. It doesnt pick up too much product so you can build it up nicely and it buffs it into the skin brilliantly.



VERY GOOD

I love using this brush to messily and quickly blend my foundation before going in with a sponge. The only downfall is that it leaves streaks but i love it because it gives high coverage and then i go lightly over with my RT sponge to remove streaks but still maintain a full coverage! highly recommend

Great brush!

I use this brush for applying liquid/powder foundation and blending anything on my face and it is perfect for blending. I can achieve light or full coverage using this brush.

Foundation Brush

Love this as a foundation brush. I use it for all my liquid foundations.
Its like a lighter and fluffier kabuki brush. Really allows you to get build-able coverage with any liquid foundation.
Bristles are super soft and easy to clean. Would recommend.

Wonderful

Great foundation brush. I use it to apply powder foundation on a daily basis. It picks up a good amount of product, has soft bristles and is easy to buff. Really like it.

Good for cream products

I have had this brush in my collection for a long time and have enjoyed it for liquid foundation application over the years. It is good quality and has lasted well. I would recommend a dabbing motion when applying as the bristles are densely packed and 'swiping' can move product around and cause streaking.

Perfect for blending!

I love this brush for buffing and blending. It is comparable to the NP 24r brush however, it is smaller so better for getting into creavaces and doesn't loose any excess brush hairs. It doesn't absorb product so you get more bang for your buck.

Multiuse

Gosh this is such a multitude brush. I use it mainly for foundation but have for buffing and blushes as well.

nice foundation brush

It works best with cream and liquid foundation and can also be used for powder foundation. It blends foundation well without absorbing too much product. The size of the brush is perfect for blending foundation and it blends foundation well on sides of the nose.

Good brush

Such a good brush for liquid foundation. This does a great job at applying my finishing powder too. I love the look I get with this.

Best blending brush

I have purchased expensive blending brushes and never came across a brush this good. I use it to blend my cream bronzer/contour and it does a perfect job. I wouldn't spend any more money on any other brushes!

Awesome

I love this brush for blending out my cream contour! Because it's tapered, I'm able to easily blend it our precisely and seamlessly!

Great brush

This is a all rounder brush. Perfect for buffing in and working my foundation in. I use it sometimes at the end too for my power.

No streak marks

I had heard so many great things about this so I wanted to give it a go.
After dotting on my foundation I use this brush to blend everything in.
It blends in smoothly and easily with no streaks or brush marks, which I always get when I use a flat foundation brush.
This brush is nice to hold and feels comfortable.
It's also great quality and doesn't shed.
I wash it after every use and it's as good as new and has lasted years.
Such great quality for such a great price, I highly recommend it!

Easy and perfect foundation application

Great quality make up brushes.

The expert face brush is the best foundation brush in this price range. The bristles are soft and tightly packed. The brush perfectly fits into the face contours and leaves your foundation smoothly and evenly applied without brush strokes/marks.

Easy to clean and great for travel.

Only brush I use for foundation

I love to use this brush to apply liquid foundation and it creates such a flawless finish when you use it in a dabbing motion. I also use this brush to press my setting powder into the foundation once I've applied to powder with a fluffier brush.

The perfect powder brush!

There are no other make up brushes I would use! Real Techniques are the best out there. They wash so well and last forever. This brush is perfect for applying powder and applies so evenly. My favourite! 100% recommend.

Affordable brush

Great brush for foundation. It is super soft and glides onto the skin without tugging it. The foundation application is really nice for liquids. I have been using this for a few months and after awhile I found some of the bristle hairs falling out. This is slightly disappointing but the brush is great for the price. Also I wish the brush head was a tad bigger to cover more area.

L

I love this brush for liquid foundations. It blends it out so well! I also love to use this brush for bronzer aswell and sometimes contouring.

Great Brush for Flawless Foundation.

This brush is my all time favourite for applying liquid foundation. It is super soft and allows my foundation to be easily applied. It gives my foundation a soft, flawless finish with no streaks and blends great! You can tell it is of high quality when you are using it!

Great quality

This brush is great for blending thick foundations or cream blushes. It is very soft, washes easily and doesn't shed.

Great for full coverage foundation

This is a great brush to use with liquid foundation if you are wanting a fuller coverage. The brush is super short and dense, soft on the skin and does a good job. Gives foundation a very smooth, airbrushed look.