KEVIN.MURPHY Blonde.Angel.Wash 250ml
Is this for you?
A specialised colour enhancing shampoo for blonde or grey hair, the KEVIN.MURPHY Blonde.Angel.Wash gently cleanses and restores shine.
Cruelty Free
Vegan
Australian Made
Sulphate Free
Hair Concern:
Brassy tones (blonde/grey hair)

Colour protection

Dull, lacking shine
Frequently bought with
Please wait while we find a match
Questions & Answers
(5 Questions)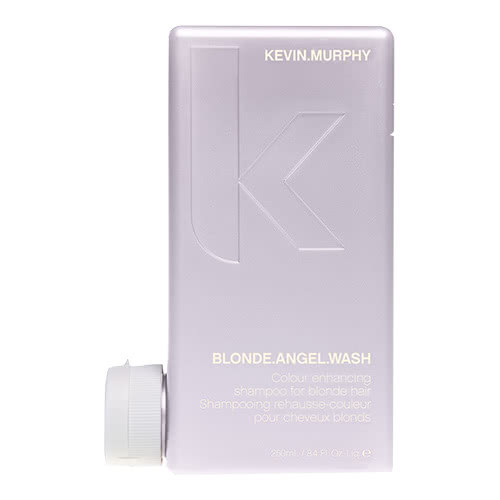 KEVIN.MURPHY Blonde.Angel.Wash
Get an expert to answer your question about this product!
90% recommend this product
Most Helpful Positive
I love this
I can see a huge difference and I think this is wonderful. Kevin Murphy is always great.
Most Helpful Criticism
Kept brassiness at bay
I used this after dyeing my hair blonde a while ago. It did keep the brassiness at bay and left my hair feeling soft. I wouldn't use it on a regular basis though as i need something a bit more volumising and also it's quite expensive. There are other products i prefer which get better results for me personally.
Good shampoo for blondes

I use this with the Blonde Angel conditioner (the one in the dark purple packaging). The two together have made the blonde of my hair more creamy and less brassy. I really like the smell of the two of them, and my hair doesn't feel dry or coarse.

The main downside is that they are quite expensive, which might make me think carefully before buying them again.

Perfect for blondes

I love this to keep my hair from becoming brassy and yellow. Doesn't fade original shade. Quite hydrating too!

I love this

I can see a huge difference and I think this is wonderful. Kevin Murphy is always great.

Wonderful toner!

I received a sample of this and must say it's the first blonde toning product that hasn't left my hair feeling super dry. Easy to use in shower and toned away the brassiness in one go. I have dyed blonde hair at the time of using and highly recommend it.

Worth it!

I received this as a sample, however I do not have blonde dyed hair so I quickly gave it to one of my friends who does to sample. She said she was currently using a cheaper blonde treatment and was happy with it. Although, on using this she said it had a much better impact on the orange tones in her hair than what she is currently using. She advised me she is going to finish her old bottle and then buy a bottle of this as it is much more effective! She also said she would recommend to anyone that has full blonde dyed hair as she does.



Soft and Silky Hair

Freshens up my recently dyed hair nicely. Downside is that you need to be regularly (every 2 days) be washing your hair. Apart from that great shampoo that leaves my hair soft and silky!

Best blonde shampoo

Absolutely love this shampoo.
Perfect for those annoying yellow/orange tones.
I find you have to use double to clean all my hair (medium length) compared to the other Kevin Murphy shampoos.

blondes

I have very white blonde hair and this is by hair the best shampoo I have ever used.

How did I not know about this earlier?

Omg I love this. My blonde is so so clean, and so soft! Not dried out at all. Will get again

Great for blondes!

One of my favorite purple shampoos! Gentle clean and smells nice!

Silky

Received a couple samples of this - my hair feels so silky soft after using it and smelled beautiful - definitely won't be going back to supermarket shampoo after this

A little goes a long way

This has been my go-to shampoo for quite some time. I have natural blonde hair that tends to go a bit brassy so I switched from the standard angel wash to the blonde angel. Leaves my hair feeling soft, smooth and beautifully clean. A little bit goes quite a long way.

Magic

Hair feels like silk after using this. I have thick hair and this tames my hair with ease

Love the product...not a fan of the packaging

I've been a long time fan of the De Lorenzo toning shampoo, but wanted to try something different. I haven't had my hair professionally coloured since April so that brassiness was starting to REALLY show...after one wash this gorgeous shampoo removed heaps of the brassiness and by the third, my beautiful platinum blonde highlights had been restored. Smells amazing and doesn't dry out my hair, nor does it turn my light pink nailpolish a shade of purple. I took off a star because I'm not a fan of the packaging...it drips purple shampoo anytime I move it, no matter if I have it upways or downways. Otherwise I love it!

Good alternate

Love the KM blonde shampoo and conditioner. My hair is long and fine and these products keep it feeling soft, smooth and bright. I used to use it exclusively but found that it stopped 'working' as well. So now I alternate every few washes between the blonde and the hydrate and its better

Love this

Toning shampoo that actually works! Tones hair perfectly

Initially good

I found that when I first started using Kevin Murphy Blonde Angel Wash my hair was quite healthy, however after a few months I started getting build up through the lengths and my hair was holding more moisture than it had even done before. It smells good and seemed ok for short term use but I would recommend long term for anyone with fine or porous hair. It was good at reducing brassyness and keeping colour blonde so worth a try.

LOVE

As a faux blonde, my hair is damaged and does tend to go a bit brassy so this product is a life saver. It's super hydrating and a nice deep purple so it does a great job of removing brassy tones.

Blonde wash

Love it! Makes my hair feel soft and smells amazing! Once washed my hair is not so knotty either. With the colour I notice a difference, my hair is a whiter blonde. This is the best blonde shampoo I've used.

Kept brassiness at bay

I used this after dyeing my hair blonde a while ago. It did keep the brassiness at bay and left my hair feeling soft. I wouldn't use it on a regular basis though as i need something a bit more volumising and also it's quite expensive. There are other products i prefer which get better results for me personally.

10/10 Worth It

This product smells great and keeps brassiness at bay which is fantastic between visits to the salon.It makes my hair super soft which is a bonus as well.


Perfect

This smells absolutely divine and gets rid of brassiness without leaving traces of purple in my hair. Love it!

Great for brassy hair

This shampoo is great for removing brassy tones from hair. Combined with the conditioner can be a little much and made my hair very blonde, but definitely on its own produced a nice colour that lasted until my next treatment. Produces a nice, silky feel after wash and doesn't dry hair out

Worth the price

My blonde looks amazing between visits to the salon and I feel its thanks to Kevin Murphy. My hair feels amazing and no brassy tones to be found. Product smells great and a little goes a long way.

Beautiful Purple shampoo

This really is a gorgeous shampoo, it's a beautiful deep purple and feels like it cleanses your hair as well as tones it! You do have to use a bit of a product though to make it feel like it's cleansing your hair enough but that's about all that's perhaps a negative. The product I feel does actually work...if you exclusively use the shampoo and matching conditioner for a while, you do get compliments and people think you have been to the hairdressers.

Great for extensions

I have blonde highlights as well as tape in hair extensions and this product is great without spending a fortune.

Good product

A good shampoo that helps to keep the brassiness away however KM does have better products and I find that the treatment products are much better!

Good but not great

It's a nice shampoo and smells nice but it's not the strongest for toning. The treatment in this range is much better for toning

GREAT!

My hairdresser used this on me and it worked great!

After a bleach my hair came out yellow and dry and my hairdresser uses this and it came out a lot softer and less brassy tones aswell!

It also smells delicious like Caramel/Vanilla



A good product

I am a massive fan of all things Kevin Murphy. I have recently decided to use the blonde angel wash to help with the brassy tones in my hair. I noticed a change after the first wash, I have to admit it isn't my favourite Kevin Murphy product but I will purchase again.

Great but a bit pricey

Great shampoo but a bit pricey , didn't get rid of the green tone on my blonde hair( because of swimming in a pool) but I guess that deserve a visit at the hairdresser. Can't do miracle with a shampoo .

Great for bottle blondes

This was recommended by my hairdresser to maintain my blonde colour. I love the smell, it helps extend the life of my colour and I generally pair it with the Blonde.Angel Rinse. I do agree with prior reviews that doesn't foam the best, particularly if you have hair styling product in or you hair is a little oily. As a result I usually shampoo twice, either using this, or sometimes with a cheaper shampoo (i.e an anti dandruff one) first. Still worth it if you've paid for a colour job at the hairdresser and want to maintain it as best as possible. Love the smell but don't find it lasts outside the shower.

Banish the brassiness

This product smells great and keeps brassiness at bay which is fantastic between visits to the salon.It makes my hair super soft which is a bonus as well.

Hair Saver

I have fine long colour damaged hair that really enjoys matting together, frizzing up and generally misbehaving, I have tried quite a few different products to try to combat it but generally have found that I am still trying to brush out matts that out dreadlocks to shame each week.
I tried this (coupled with the angel rinse and the angel masque) and I was in complete shock as to the improvement in my hair after only one application. My hair de-tangled easily and felt soft and smooth with no flyaway's and still retained a bit of texture.
It is more on the pricey side but I have also found that I am using around half of what I was using in previously shampoos and conditioners for a better result so its worth it (except for the fact that I find myself washing my hair more often because it feels so damn nice and the products smell amazing)

Excellent!

I have box dyed blonde hair that I'm currently trying to grow out and get back to my natural hair colour (ash blonde/light brown). This wash not only leaves my hair soft and shiny, it also has taken the brassiness out of my blonde in just one wash! Will definitely be buying this again.

Excellent product

I have super fine blonde hair with Ultrasonic extensions and the Blonde Angel Wash is perfect for me. It has a gorgeous smell, cleans my hair gently and doesn't leave a greasy residue like some other shampoos. A little goes a long way too so it's great value for money. Highly recommended.

The BEST blonde shampoo on the market

This shampoo smells DIVINE. It has the most beautiful natural herbal scents, it's an absolute treat to use. It is expensive, and there are cheaper alternatives that work, but if you splurge on your hair products, then this is the best there is. It removes brassy tones and leaves your blonde a beautiful bright icy cool tone. Leave it in for as long as possible.

It's an alright toner

Has a musky smell. It didn't really make my hair ash just less gold...

The Perfect Shampoo for Blondes

I am in love with this shampoo. I wash my hair 3 to 4 times a week and use this every time. It tones the colour without leaving it purple or grey. It prolongs my colour just thy little bit longer. It goes great with the Blonde Angel conditioner too.

Worth every cent

Yes, it is pretty expensive. I first bought this when I noticed my blonde highlights were turning almost green. After a few days of usage, everyone was commenting about how they looked almost as good as new. I'm growing my highlights out but I can't stop using this shampoo because it seems to be the only thing that reduces my frizz and gives me a great but non-oily shine. (I use it with the conditioner as well)

Amazing for blonde hair!

When I first started using it which was recommended by my hairdresser, I didn't really notice all that much of a difference. However, I stopped using it and came back to it and I could only REALLY then notice how well it toned my hair and kept the brass at bay- mind you I also have asian dyed blonde hair so brassy tones always creep through. Its the perfect toner as it makes my blonde so bright, doesn't dry it or make it too ashy and purple- its just perfect! It is a little pricey but actually lasts quite a while... I pair this with the blonde angel conditioner :) which makes my hair super soft.

Strips my hair completely

Unfortunately although I love this shampoo for keeping my blonde from turning brassy, it doesn't foam AT ALL - you have to rinse three times to get any form of suds. And it also completely strips my hair of moisture, you can tell there's a fair bit of peroxide in it so you better have a decent conditioner to pair it with.

I use the L'Oréal smart colourbond which you leave in for 3 - 5 minutes, this adds all of my moisture back.

best ever for dyed blonde

This is forever my favourite for when my hair is dyed blonde, keeps it shiny and healthy like nothing else.

Fantastic purple shampoo

This shampoo is awesome. It's gentle on my coloured blonde hair but is effective at toning the brassy notes out. I usually use it with the Blonde Angel conditioner as well, but even if I use a different conditioner, I can see my blonde is brighter after using this product. The bottle is small but I find it lasts me a long time.

Kevin Murphy's range is fantastic and I feel confident to recommend them to my friends.

Best blonde shampoo

This stuff smells sooooo good it smells like fruit tingles!!.. It was my first time using it and I'm in love it makes the condition of your hair so soft. It tones beautifuly and doesn't strip your hair. I wouldn't usually spend this much on a blonde shampoo but I'm glad I did it was worth every penny!

Great go to for blondes!

Really great shampoo, keeps the yellow tones at bay!

Have been using this on and off for years, and always go back.

Pricey but transforms hair

Protects and transforms my fine hair that has taken a beating from heat styling tools recently. Smells divine and while I was reluctant to spend on this, but after my hairdresser trialled this on me and I had to buy the full sized bottle after. Beautiful!

Great shampoo

I started using this when my hairdresser recommended it. It's perfect for me as I wash my hair most days and it's not drying and no matter how long I leave it in it doesn't turn my hair purple. Works like a dream to neautralise brassy tones.
Only negative is that it's a bit pricey so I try to use it with every second wash to get the most out of it

Amazing

This shampoo is just fabulous for my dry blonde hair! Transformers it instantly and keeps my blonde fresh and creamy between salon appointments

Beautiful product but comparable to cheaper versions

I like this product and enjoy all Kevin Murphy range, however, I think that Kevin Murphy's styling products are superior whereas this shampoo is comparable to fudge, john frieda and other lines, which means I would likely recommend the cheaper alternative. Definitely helps with brassiness and smells lovely. Little goes along way.

Good for Blonde Hair

I really like Kevin Murphy's products and this one is great if you are blonde, and I find its great for fine hair too. I don't use it every day, so it does last a while. Though I would recommend storing it with the cap sitting at the top as the shampoo is quite liquid and it may come out quickly or seep out a little.

the best

This is the best shampoo for bleached hair. It smells great and after shampooing, hair is soft, manageable and keeps the colour clean

Good Hair Day

I have blonde hair that is relatively fine and I struggle to find a shampoo that I can continuously use without my hair becoming heavy and built up. This shampoo makes my hair so silky smooth without weighing it down. I also find that it does not dry my hair out at all like most purple shampoos do. It is gentle enough to use repeatedly and never over tones.

Gentle Blonde shampoo!

I bought this a few months ago and I've been loving it! It's such a nice lavender sent but kind of smells of sherbet as well. I feel like it does a good job at maintaining my blonde balayage although I do have a pretty low maintenance-lived in colour. I don't feel as though this shampoo dries out my hair further which is a plus! Just smells great, doesn't stain your hands and I think it lasts a long time! I bought in November and it's now March and I've got so much product to get through.
Definitely worth the investment.

No more yellow

Works great, fast and smells lovely. Only need to use this every 4-5 washes to keep colour in check and looking fresh, so lasts for quite a while. Great price point.

My favourite blonde shampoo

I've tried several others blonde shampoos but this is the one I keep coming back to. Helps keep me cool, doesn't leave my hair coated in product or silicone, and has the most beautiful scent. It's a little bit on the expensive side, but given I only wash my hair once or twice a week it's definitely worth it!

In love

I got hooked on this product when my hair salon used it after lightening my ends!
I now use it weekly and there are no yellow tones in sight!

Ahhhhhhhmazing

I have been using this Kevin Murphy blonde shampoo for the last 2 years and even though it is a bit pricey I'll never turn back! I pair it with the Kevin Murphy hydrate me rinse conditioner and my hair looks and feels amazing after every wash 10/10

Great Shampoo

I have being using this shampoo for a while now. It's great I love it but definitely pricey for the size, it doesn't last long due to the size of the bottle. Love it tho

Never Fails - Must have for blondes

I tried Kevin Murphy Blonde angel when it was first released and have never turned back! I have fine limp hair and many other purple shampoos weigh it down, this one never saturates my hair. Perfect tone for weeks without any extra work required. Two washes required for oily hair to get it foaming up.

Great for colour treated hair

A lovely gentle shampoo for hair with colour treatment. Love that's it's paraben and sulfate free however that means it doesn't foam up and I find myself using more product as a result otherwise the hair doesn't feel clean. Smells great and the jumbo bottle lasts for a long time

Best haircare brand, best blonde product

Kevin Murphy products are pricey but a little goes a long way with this shampoo. Really nice feel and beautiful scent, hair washes seem to last slightly longer which is a major bonus.

Lovely but pricey

I really loved this product but didn't think there was anywhere near enough product for how much it costs. If you can afford it then definitely give it a go, but I don't think I will repurchase!

Great for blonde treated hair

I find this product amazing when my hair is first treated (I am naturally a dark brunette with creamy blonde colored hair), but once my roots start coming through I find it slightly heavy. Smells AMAZING though and lathers really well!

Best blonde shampoo I've used

I am on to my second bottle of this - At first I wasn't sure as found it made my hair a bit oily and left a residue. Now I follow the instructions to double wash and it makes a world of difference. First wash doesn't lather much but second I get a good lather and as long as I don't use too much product and give it a good rinse out my hair is left shiny and healthy looking. Im now washing my hair twice a week with a bottle lasting me up to 8 months which makes it more economical with the higher price tag. I found a lot of other blonde shampoos leave a purple tinge and are too harsh for my hair, this one refreshes blonde and prevents brassiness without pigment inch my hair or drying it out.

Kevin Murphy

This shampoo tones blonde really well without leaving it feeling dry and straw-like. Smells great and lathers really well!

Amazing

This is such a great shampoo, it is hard to find a shampoo that does not dry my hair out , but this it it! leaves my hair feeling nourished and refreshed. illiminates any signs of brassiness in my hair i leave in for about 7 minutes and i am fairly blonde and it does the trick!

Great shampoo for blonde hair.

Love this shampoo! It's great for maintaining my hair colour after I've left the salon and also leaves my hair feeling hydrated and clean. It's my go to shampoo and saves me from going to the salon for a toner in between appointments.

100% reccomend

I highly recommend this shampoo or any shampoo from Kevin Murphy! It leaves my hair feeling silky and soft, it also smells amazing and gives my blondes a touch or highlight.

Great gentle purple shampoo

Can use this purple shampoo with every wash and won't need to worry about over toning your hair. Love the smell and effect off my blonde hair.

Lovely choice

This is a really nice shampoo. It smells beautiful and tones quite well. My only real issue is it didn't seem to suds up too much.

Pricey but worth it

This purple shampoo is quiet expensive but worth every cent!! Leaves hair fresh and maintains colour although it does dry my hair, but that isn't an issue as I do condition it.

Love it!

I have dark blonde hair with caramel tones which tends to go brassy. This shampoo not only helps with the colour but softens and rehydrates my hair and controls the frizz. Actually I've never used a Kevin Murphy product that I don't love!

Great for blondes

I have always found it hard to find a blonde shampoo that doesn't leave a tinge of purple but this product doesn't. It's great for toning, I use with the hydrate me rinse which work great together

Happy

Helps keep my hair toned and not go yellow. Not as drying as other purple shampoo's i've tried. Smells yum too!

Kept my hair blonde but wasn't hydrating enough

My hairdresser recommended this for my dry hair, but I don't think it's hydrating enough - my hair was left tangly. The good thing is that my colour retained and didn't get brassy when I was using it.

Absolutely love it!!

My hair absolutely hates any other shampoo and conditioner! I have ombré hair and it goes very yellow and golden when I'm not using this shampoo! But when I am, my hair is so silky and soft and gets blonder every wash! Amazing! :)

Great product and sulfate free

Was looking for a silver shampoo and conditioner that wasn't as harsh on my hair considering I get it bleached. This is great and keeps my hair feeling great also using the conditioner. So far so good....

smells amazing

This shampoo smells amazing and does a great job of cleaning the hair. I wash my hair twice with this before conditioning to give a thorough clean.

Keven Murphy angel blonde shampoo & conditioner

I order thiese products they where despatched the same day and I received in the post to pick up from my local country post office on the mid north coast NSW 2 days later and plus I received two free samples plus a mini Tim Tam.
Thanks for the prompt service I was impressed...

Best Blonde Wash Around

Since purchasing this wash I have noticed a significant change in my hair. Kevin Murphy Blonde Angel Wash effortlessly removes brass tones and leaves my hair a beautiful blonde colour that lasts for days. Brilliant addition for anyone with blonde hair. Overall an extremely long lasting product that I will defiantly be repurchasing.

2nd round of using

This is my 2nd purchase of this product its not heavy smells good and parabin free does not strip colour

Not a fan at all.

I purchased both the shampoo and conditioner. It really didn't work for me at all! Firstly it knotted and dried and my hair, secondly it did nothing to tone it down. Way better products on the market!

Good multiuse shampoo

I'm onto my second bottle of this. It noticeably helps gold tones from my yellow hair and keeps hair surprisingly clean. I wash my hair twice but use the smallest amount so the price really isn't too bad. It lasted me 9-12 months. My hair stays blonde and clean until a week later when I do it again. I use this with a hydrating conditioner. And the smell is delicious!!!!

On the fence...

This product had amazing reviews so I tried it, I was a little disappointed I dont feel like it made any change to my blonde although I do love the product and the smell and would use it again.

The perfect balance of tone and moisture

I have tried soo many blonde shampoos and conditioners. I have. Fine long foiled hair and find most just dry my hair out or don't do anything for the colour at all. I used both the shampoo and conditioner together and I cannot get over how amazing these products are. The shampoo is super creamy and Pigmented and tones just beautifully yet gently. The conditioner the softens the hair without weight and the result is a luscious blonde with loads of moisture. Definitely give it a try!!

Great Product!

Love the Kevin Murphy and the Blonde Angel range!

Amazing!

I love the Kevin Murphy Blonde.Angel.Wash! It smells amazing, a little goes a long way and it really removes those brassy tones from the hair! Works a treat! I would definitely recommend! Repeat purchase for sure!

LOVE!

I have searched for a long time for a blonde shampoo that doesnt dry my hair out and turn it purple. Finally I have found it. Would definitely recommend this!!

Say goodbye to brassy tones

This product is amazing for keeping the brassy blonde tones away for good. You also only need the tiniest bit, so the product lasts ages! Very good value for money.

The Best!

The best scented shampoo and conditioner ever! Leaves hair soft and smooth. My hairdresser recommended to me and I never looked back! Beautiful!

Have used this for AGES!

I have thin, regularly bleached hair which after a couple of weeks tends to get those yellow tones, once i use this shampoo the next day i have people asking if ive had my hair done it makes such a difference to the tones and colour. I leave the shampoo in for a few minutes and rinse off!

Great shampoo

I find this really good for grey hair. Works really well. Smells nice also.

Best blonde shampoo

Works as well as any blonde shampoo on the market however still works well as a shampoo and it smells delicious!

Good but...

Great product to help reduce brassiness. Don't love the shape of the bottle though, it's hard to get the last of the product out.

It was okay

It put a nice shimmer on my hair and it smells very nice, it didn't really make my blonde hair look different, but my hair is difficult to tone.

Pricey but worth it!

My hairdresser recommended this product and Im so glad I did! It really does what it says I find my blonde foils looks fresher after each wash and even my hairdresser is amazed by the results! I use this and condition it with Blonde Angel for beautiful smooth blonde hair! Have been using this product for the last 3years and will keep doing so.

Good to revive dull blondes

I have natural blonde hair, I find that it gets a bit brassy with the water so this shampoo really helps revive the colour so it's shiny blonde again. As it's quite pricy I rotate this with a regular shampoo, every time I was with this I get compliments about the colour of my hair as people think I've dyed it. I like to use this once a week and really lather it up and leave it in for around ten minutes before washing it out. Would highly recommend for brassy blondes.

Good for brassiness and yellows.

I have a lot of brassiness and highlights in my hair from the sun and I found that using the Kevin Murphy Blonde Angel Shampoo and Conditioner reduced the brassiness and yellow tones but still left my hair feeling healthy.

The price will put me off repurchasing as I didn't feel that it worked any better than brands such as a Fudge which are almost half the price.



Unicorn Poop - delicious product

This product is all round awesome. It looks like purple shiny unicorn poop (if unicorns exist).

My hair is fine and highlighted blonde and quite brittle at times. This shampoo for one, smells divine like musk lollies.

After just one use, I found my hair was glossy and swooshy.

The purple pigment is quite grippy and I noticed that it removed any brassiness within one use.

Not a massive fan of the bottle as it can leak out the bottom, but I just store it so the cap is at the top.

Would recommend!

x