Inika Loose Mineral Foundation 8g
Is this for you?
Inika Loose Mineral Foundation is a lightweight, 100% natural, mineral, loose powder foundation that provides the skin with a flawless finish. Available in eight various shades to suit your particular skin shade.
Cruelty Free
Vegan
Australian Made
Artificial Fragrance Free
Certified Organic
Skin Type:
Dry

Normal to dry

Normal to oily

Oily
Frequently bought with
Please wait while we find a match
Questions & Answers
(2 Questions)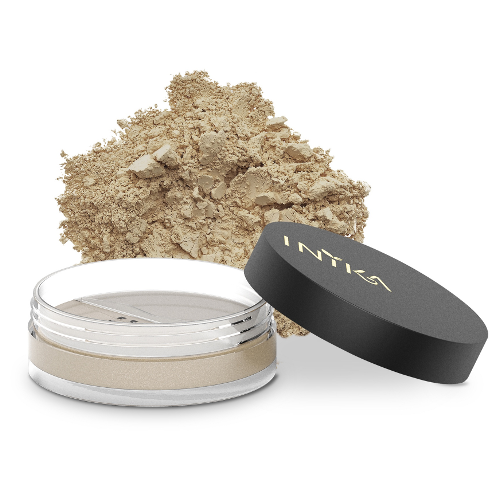 Inika Loose Mineral Foundation
Get an expert to answer your question about this product!
96% recommend this product
Most Helpful Positive
Fantastic mineral powder
Love using this powderinstead of liquid foundation. Smooth finish.
Most Helpful Criticism
Mineral powder
This mineral powder is good! it gives a full coverage! easy to blend in! messy application but isn't all mineral powders!
Mineral powder

This mineral powder is good! it gives a full coverage! easy to blend in! messy application but isn't all mineral powders!

kinda of meh

Nice but colours didnt match super well and couldnt find something perfect for my skin type

SPF and coverage

I love that this has spf 25, as it means I don't have to put on sunscreen every day and clog up my pores. The coverage is good and builds well, plus it has a lovely luminous sparkle.

Fantastic mineral powder

Love using this powderinstead of liquid foundation. Smooth finish.

Perfect way to include SPF!

The best part about this foundation for me is that I can include SPF of the less-chemically form, (zinc oxide) without the thick, stiff formulation of zinc sunscreens and moisturisers. And on top of that this is the nicest, natural foundation I've experienced. I picked 'nurture' as it was said to match most skin tones and I've found that it matches mine perfectly! It builds nicely and stays well on my face all day.

You won't be disappointed.

I have used this foundation for years and have never found it's equal. It is pricier than other powders but I would definitely say it's worth the money. A little goes a long way too.

Fantastic product

This is by far the best foundation I have ever used ! Love it

Smooth powder

Goes on smoothly, doesn't have staying power but it looks nice if reapplied. Good for daily use light coverage.

Love at first sight

This mineral powder was recommended to me by my beautician as I've got combination and acne prone skin! I used to use liquid foundation for the last 10 years and apparently that's what used to cause my break outs! Since I've used this my face is a lot more smooth and not as acne prone as it used to be! This is just amazing and not cakey at all! Very natural and light weight! Love love love it

Let the compliments roll in

This mineral foundation came highly regarded so I decided to give it a try. I was initially a bit worried when I first opened it to see how shimmery it looked (I actually had to double check I'd purchased the correct product) but once I applied it, I was very impressed with the finish and coverage. It's light and buildable and gives a gorgeous glow. I receive so many compliments when I wear this.

Great for setting their mineral liquid foundation

I find I have to use this powder in conjunction with their liquid foundation so that I can set it and make sure that it doesn't rub off.

Love it!

I've never been a fan of loose powder foundations but the product has changed my mind! I have oily skin so this foundation definitely covers up all my oils but at the same time doesn't make my face look dry and gross. It is the perfect coverage and very buildable, it blends out so easily and flawlessly! 10000% recommend

Not enough coverage

I found that you need a fair bit of the product to get a good coverage, and due to this I ran out of it really quickly. I didn't find a colour suited my skin perfectly, I was kind of between colours

definitely a staple!

This product is so perfect to put over your foundation as it adds coverage, making the skin look flawless. As someone who suffers from oily skin I can say my skin is shine free the whole day, and more importantly it doesn't break me out!!

Sample but good

I got a sample to try and it's lasted me ages! I like the bronzer it's a good colour and has a bit of shimmer!

Great

Great coverage and but feels so light weight on my skin

Perfection

Best mineral foundation out there, natural look and soft finish!


Great

At first I didn't like this product, but after learning the best way to apply it, I fell in love! I apply this with a kabuki brush over the top of the Inika BB cream (nude). I find that you get more coverage if you stipple it, rather than using circular motions. I have combination, acne-prone skin and this foundation (with the BB cream) lasts all day, doesn't crease, doesn't make my skin oily or dry it out, and doesn't make me breakout! Will never change foundation again!

Love Inika

I've got fair skin and I've been using Inika Strength powder foundation for years. I love that it's so easy to apply with the Inika kabuki brush and it doesn't feel heavy. It's natural and doesn't contain any nasties either!

Perfect

I have recently switched to Inika as I've realised that the previous 'natural' mineral makeup I was using had comedogenic ingredients in it which was causing breakouts. I have fair skin and the colour Unity is great. It covers and builds well. Definately recommend.

not bad

it has good coverage and blends nicely, it does however need reapplication by early afternoon

Not impressed!

This powder was way too glittery and also broke out my entire chin area. So disappointed. I can't return it as I didn't get photos of my reaction and now I have a full pot of this just sitting there. Not a fan of this product at all.

Love it

Light weight and beautiful finish on my skin... looks so natural

Best foundation you'll ever use

This mineral foundation is so good that I have consistently re purchased it over the last 10 years.
I have combination skin with the odd break out and some acne scarring. It's perfect on its own and is buildable, or as a powder to set a liquid foundation when you'd like a bit more coverage, or keep the shine at bay. My skin loves it and it seems to calm any redness I have down. Bonus is that has SPF in it as well. Definitely recommend using this with a kabuki brush, it needs a nice dense brush to help build it up if you're using it on its own.

Best foundation I've ever used!

Hands down the best foundation I've ever used! I have sensitive skin that can be oily but also dry and prone to eczema and this product helps all of those things. It has buildable coverage and is comfortable on the skin.

The Best!!!

I use Nurture for my skin and have done for 10 years... I tried the baked but that has no SPF ...so I love the loose as you can get a natural finish or heavier depending on application . It also has SPF 25 ...that is the highest vegan loose mineral makeup I have ever found
I use every day! and I believe this is why I have great skin!

Great Mineral Makeup

The best Mineral Makeup I have used, provides super good coverage but still feels so light, great for acne prone or sensitive skin,

Love it !

I've tried so many mineral foundations, and this one is by far my favourite. It's a really good coverage and long wearing foundation that you can wear on its own- or over the top of a liquid foundation

Lightweight but completely build-able

LOVE LOVE LOVE this powder! Was originally just looking for a powder for slightly more coverage to my foundation, but this has become the only thing I use for a day look. Has the perfect amount of coverage, plus a slight simmer for a natural glow. On top of foundation it gives a flawless complexion without overpowering the foundation it's self. Could not recommend enough!!

Simply the best

I use this to set my liquid foundation and it gives me a beautifully soft, glowy finish while helping keep oil at bay. A jar lasts me forever as I'm only dusting my face with it, not applying it as a regular foundation - my last jar lasted 18 months.

Great mineral powder, stays on well

I have been using FitCover for the last few months, I was after a mineral powder that would look natural, give light to medium coverage and most importantly, stay put during hot, humid QLD weather. I was not disappointed. After a full day of wear and a HIIT workout, the powder held up surprisingly well. There was some minor settling into lines, but over all I was impressed. Will buy again

Love

LOVE this powder. Great coverage and doesn't leave you looking too matte. Completely gets rid of shine and lasts throughout the day. The only downside is the packaging - it can be difficult to get the powder out without spilling it, but still hasn't stopped me from re-ordering.

A big YES from me

skin type: light/yellow base w/freckles - Dry and sometimes sensitive

I love this powder!! Having dry skin I was a bit hesitant to use powder thinking it would dry my skin further and look cakey. This certainly is not the case with this powder. I apply this product on top of Inika mineral foundation for a fuller coverage finish. The powder seems to instantly illuminate and smooth the skin without being dewy or too drying. I was drawn to this product because of their organic certification as this is becoming more of a priority for me and the products I purchase. Its great to have an organic option that can stand up to your Mecca sort of brands.

Great for every day wear

I have oily, break out prone skin and using this foundation with the inika kabuki brush (or any good kabuki brush) is fabulous for everyday wear.
By layering and buffing in circular motion this can go from a light to medium coverage powder to full coverage and it lasts all day.
In a humid climate this lasts from the beginning to end of my day with only minimal oiliness toward the end of the day.

Good foundation

This is a lovely foundation. Personally I prefer their liquid foundations for my skin type but I used this for years beforehand & loved it.

Ok

This mineral foundation was ok, but made my skin break out. It looked great on, but not for me.

Amazing

Gives such a natural glow, I seriously love this powder.

Excellent Foundation

I have used Inika Mineral Foundation for more than 5 years. The powder is light, it covers well but does not clog pores. Always my go to foundation.

Amazing mineral foundation

Really love this brand and product, I have used so many of these pots and the coverage is really nice and silky. Best applied with a kabuki brush. I am in the shade nurture and I really like how it sits on my skin. Ensure your skin is well exfoliated if using mineral makeup as I find if it's not it can catch on patchy dry spots, so that's just a tip for making this look even better! :)

my everyday go to

I use this mineral foundation daily in the shade unity. It's easy and light weight but you can also build up the coverage! I also love the added bonus of having SPF 15 protection. It will always be my all time favourite!

Fantastic foundation!

I have been using this product, in Strength, since 2014 and I absolutely love it. It goes on easily and you can layer it, depending on whether you want light or heavier coverage. It is natural looking and so light on the skin. I could never go back to a liquid foundation after using this! I use it with the Inika concealer. Highly recommend!

Flawless foundation

The foundation provides flawless coverage, it blends in really well. It doubles as a concealer, it cover blemishes and dark circles really well.

Fantastic

Have used this on and off for 8 years or more. Great natural finish, which is very buildable without going cakey. I am quite fair (NC15-20) and use shade Grace in winter, Unity in summer or when fake tanned. Lately have also used it as a dusting powder over liquid foundation and also works well like that. Very gentle on my sensitive skin.

Most beautiful mineral powder

I absolutely love inika's powder foundations I use a range of their colours and I love them all, they always leave a beautiful and flawless finish without looking powdery

Love, love, love.

So I've tried Youngblood but thought I would give this one a go due to the reviews. As I'm fair like a vampire, I use a BB cream (la roche) with spf as a base and just use a light coating of the powder. Works amazing and it's not too heavy. Gives great coverage too!

Long lasting

This powder is great! My skin is more on the oily side and it definitely gives me a lovely matte finish that lasts the whole day. I apply this over a tinted sunscreen and that is all the coverage I need.

Good coverage, natural product

I've been using the Patience mineral powder for almost a year now. I have tried a few different natural vegan foundations, and found this one to be the best. There is a slight glitter to the formula, but when on it just blends in. It's a really great everyday product and doesn't seem to clog my pores.

Natural makeup thats good for your skin

I use this powder in shade Unity and it is lovely , I also love this with their Primer. Its a beautiful finish that gives your skin a healthy glow. It has great coverage but is buildable if you love that thicker look . I am fair to medium in skin colour and this powder is a lovely shade

Pretty and buildable

I love this mineral foundation! It has quite a natural coverage that coverage that you can easily build up for more. It looks so natural and pretty on the face.

Great coverage and nice Glow

I use the shade Unity which is great for not the most pale of skin but not olive either ! this is great as an over the top powder or you can build on top of primer. Its affordable as lasts a long time and its good for your skin. I have medium to oily skin and find this product great !

Buildable coverage

I have combination skin with spots on my chin and forehead. I live in a hot climate where it's very humid most of the time. I love this foundation because it's breathable and my skin can sweat in the hot weather. I lightly blot with a tissue and the foundation remains. It has buildable coverage. I like the finish which after half an hour looks like a liquid foundation as it melts into skin.

Best mineral foundation

I have dry skin and typically go for a liquid foundation. I was so pleasantly surprised after trying this product for the first time. It gave fantastic coverage and felt lovely on my skin, and best of all it wasn't drying! It settled into the skin so nicely, and you can easily build coverage as you want. It is expensive but definitely worth it. A container lasted me around 6 months and that was with using it almost daily some weeks, or once or twice other weeks. The kabuki brush is great to use with this too.

Natural, customisable coverage

I have oily/combination skin and have always used liquid foundations but thought I would give this a go. Many liquids for oily skin dry to this kind of film over your skin, which when accidentally rubbed off, can look nasty and there is no way to touch it up without making it even worse. I have found this powder just doesn't do that and you can take it with you to touch up at any time without it ever looking cakey. It also doubles as a concealer, at least for my spots - I just take a tiny amount on a concealer brush or my finger and dab it on. The thing I love most is that you can sheer it out so easily and build in the places you want. I tend to break out on my chin but don't like to cover up the freckles on my cheeks, and the transition from medium/full coverage to close to zero coverage is seamless. It regulates oil fairly well, not as much as I'd hoped so if you are very oily you may have to powder over the top, but for my combination skin it did well. With the right base (one that does not contain silicone or has little silicone content) it lasts well too. I've worn it hiking around hilly Sydney for 5+ hours on a hot day and still looked fine after. Overall one of my favourite foundations (and I'm a foundation junkie), plus, it's vegan and Australian so props for that.

Love it !

I've tried dozens of different mineral makeups- and this one is up there with the best. Fantastic colour selection, you can go as natural or as 'full' coverage as you like. I've got very combination skin and it's non drying and still keeps the shine away. Rate this a lot higher than some of the big brands out there. Very underrated foundation.

Great for a lazy gal

I have normal skin but I'm just so lazy with make up. I just want it to match my face and look good. And this does!
It's lightweight and lasts! It's natural and vegan.
Only con is that it's a bit tricky to get out (maybe I'm doing it wrong!?)

shocked & confused (in the best possible way)

okay, you guys....

I'm 28 and I can honestly count on both hands the amount of times in my life that I've worn foundation. I don't feel like myself whenever I've applied it or had my make up done and I finally know why; I should have been using mineral foundation as opposed to liquid this whole dang time! Our lovely make up artist, Vanessa, did my make up using the Inika Loose Mineral Foundation for a shoot yesterday and for the first time in my life, I didn't want to flee to the bathroom with cotton rounds and micellar water.

Infact, I might have gone to the bathroom to admire this new look and give myself a finger gun or two in the mirror. It gives a light coverage so I could still see my freckles through it, but the texture and tone of my skin was even and flawless. Even better, it's all organic AND has SPF protection. What more could you want?

Great product

Great foundation if you have sensitive acne prone skin! I find that this does not break me out and its texture is lovely! Would recommend this!

Gentle on skin

My combination skin can sometimes become sensitive, red and easily irritated. That's when I love this inika loose mineral foundation because it doesn't cause further irritation. It blends easily, feels silky smooth and yes you can build it a bit to even out skin tone as a whole but certainly not for full spot coverage like red blemishes. I wear nurture but find it's a little toward the neutral side and not a full yellow base personally. A good, gentle foundation for everyday wear. Jar contains less product than other brands, tends to be used up a lot quicker!

My go to for coverage

I've been using this product for a few years now and I think it's pretty great. I have light skin but I tan well and I have a few freckles. It provides a good amount of coverage for me (my skin is pretty balanced and I rarely get pimples). I've tried other brands powders, bb creams and liquid but so far this is the best I've found that is vegan.
Pros:
Light weight
Looks natural
Vegan, cruelty free
Organic
SPF
Cons:
Getting the powder out of the container is annoying (maybe I'm using it wrong?)
Container is single use (not refillable)
I don't love powder

Holy Grail Natural FOundation

I recently purchased this foundation for my lighter coverage days and it looks amazing, i have dry skin and the foundation doesnt look cakey and still looks like my skin.

Light but great coverage

I started using this product a year or so ago once I started getting breakouts and I haven't looked back since. This product is amazing - it gives really good coverage but feels so lightweight. It gives the perfect no-make up make up look.
I have a medium skin tone with yellow undertones and I use patience.

Natural coverage

This product is great over bb cream or a light coverage liquid foundation and provides a smooth finish that isn't too heavy and which doesn't clog the skin. It's equally good when used alone if you're after something lightweight

Very good coverage

This mineral foundation is great. I use it for all sorts of looks, minimal and simple or full coverage

Each look is great and doesn't sweat off.

Perfect loose mineral foundation

I have used this product for nearly 10 years and I don't plan on switching anytime soon.
You can have a natural or full coverage depending on what you're after. The shade I use suits my skin perfectly and I always find it sits well on my skin and super easy to blend in. Doesn't leave my skin looking dry at all. Works well with the inika primer underneath aswell. I would highly recommend anyone trying this product.

Soft and Natural

This product is great over bb cream or a light coverage liquid foundation and provides a smooth finish that isn't too heavy and which doesn't clog the skin. It's equally good when used alone if you're after something lightweight.

beautiful coverage

I have been using this product for a few days now and absolutely love it. I suffer from hormonal acne and find if I wear liquid foundation to often this can cause my blemishes to become more inflamed so I decided to convert to a mineral makeup during the week and I will never go this. The coverage is perfect and I find the product stays on my skin without moving.

Converted

Inika was my trial in mineral makeup as well as loose foundation. I have lots of freckles and I hate the way liquid foundations take them away and made me look a little flat. I love layering this up and developing a natural look. It's strong enough to hide any pimples. It also feels lovely against the skin - soft, rather than oily.

Lovely light foundation

I love this foundation, it is good coverage without feeling heavy, and still lets my skin shine through. It is also great for combination skin.

Good coverage

This foundation doesn't tend to look caked like lots of other makeups. It has a nice matte finish and fells weightless and breathable. It last for a long time too. Great value for money.

Great mineral powder for oily skin

I love mineral powders as I find them so quick and easy to apply, and give a nice glow, however I usually become oily over the day. This has been the only mineral powder that keeps shine at bay over the day, is nice and natural looking while proving buildable coverage, and does not irritate my skin.

My weekend foundation

I LOVE this foundation. Its my weekend foundation when I want to give my skin a break from my thick liquid foundation. It doesn't even feel like im wearing foundation, yet the coverage is very good!

Great product for oily skin

I have oily skin and have used a range of mineral powders which tend to make my skin very oily. Inika is the best mineral powder I have ever used. I use Nurture most of the time and Trust when I have a fake tan.

Great for oily skin and all-day coverage

I got a sample of this foundation in Grace and I loved it. I have fair, very oily skin and found that this product provided great, all-day coverage. It didn't cause breakouts and didn't make my skin oily. I used the Inika Kabuki brush to apply and didn't have to use a primer. My only complaint is that the powder goes everywhere! I'm going to buy the baked mineral foundation to try because of this.

Everyday wear

This is my everyday 'make up', I use a mattifying primer underneath and concealer on the areas that I need extra coverage. This is a lovely product, I only wish that the sizes were more generous as it's almost double the cost for 1/2 the qty of other comparable brands.

Best mineral powder out there!

I have tried so many mineral foundation powders, but this one is the best. I am very fair, with neutral undertones (but tend to have redness) and use the colour Grace. As long as I don't use too much, it doesn't go yellow, and I can achieve a very natural look. It does tend to cling to dry patches, so good skin preparation is a must. Love to use it on low key makeup days, and it lasts from dawn to dusk without the need for touch ups!

Brilliant quality and coverage

After years of struggling to find a powder foundation that would give me a decent coverage and not make me break out, I was recommended to try Inika and I will never use anything else again! I love the buildable coverage and the amount of shades is so helpful in finding a perfect match. But the best part is that it is 100% guilt-free!

LOVE LOVE LOVE!

This is my all time favourite foundation - I've been using this product for 3 years and I won't even consider trying anything else! It can be worn alone for a more natural look, or over the top of a liquid foundation to set it. It provides great coverage and is buildable, perfect for day and night. It's a beautiful fine, smooth powder with a lovely matte finish. The shades match really well and are quite forgiving. I have a fair-medium skin tone with yellow undertones and opt for 03 Unity in the Winter, and 05 Patience in the Summer. My skin is prone to congestion and this foundation doesn't upset it at all. Highly recommend!

Best mineral foundation

Have used this product for years and am still in love with it. Provides a flawless finish without blocking pores. Fabulous for daily use.

softest foundation

I love with foundation. It's so soft and goes on easily yet provides a delicate coverage. I look ridiculous when all my freckles are completely gone so this is perfect for me!

Fabulous Foundation

I have been using INIKA mineral powder for years. It provides good coverage without blocking pores. I had been buying it from another online store but Adore offers better discount and additional free products :)

Great powder!

This mineral powder is fantastic. It is great for my sensitive skin. You can build powder to the coverage you need whether is be light for everyday or heavier for night wear. Although it is a bit expensive compared to some mineral powders I would highly recommend this product.

One of THE BEST mineral foundation powders I've used out there!!

Decided to finally try this brand based on rave reviews with high praise on beauty blogs & forums & also published editorials in magazines.

I'm in my late 40's, with combination skin prone to acne & still suffer breakouts to this day....HELLO hormones & peri-menopause!!! This has been the BANE of my life & subsequently I have spent the majority of my life from early teens, perfecting the art of covering & masking my face with makeup. (lets not mention trying to find multiple Holy Grails of skin care products.) It has become a life quest so to speak & I have tried absolutely every possible form of foundation.

The discovery of mineral powder makeup has been my saving grace the last 10 years as it's light & doesn't feel like I have makeup on & when you find "THE ONE', or the right one, my skin feels calm & looks 'almost' flawless...(for me.)
These mineral powders have come a long way since then & I love trying new formulas as the technology improves.The BIG deal-breaker is Bismuth Oxychloride which cause cystic acne to form on my skin....Thankfully & wisely this brand does not have this horrible ingredient. It seems to have only the good stuff & my skin feels absolutely wonderful with it on...no itchiness or flare-ups at all so far after 2 weeks of daily use.
I'm using a combo of 2 shades to best blend in with my skin tones - Truth & Nuture.
I am IN LOVE with this product & feel like I've struck the cover-up jackpot while still looking naturally glowy & allowing my skin to breathe.
I do need to mattify my T-zone every 4-5 hours with a light setting/mattifying powder, & the other tips I'll offer are; use a good primer & buff the product in with a good quality bristle kabuki style brush.
Highly impressed with this I can't believe I hadn't tried this brand.

Good for acne-prone skin

I have been using this for about a year and a half and it gives really great coverage considering it's an organic product! It is a little pricey but I use it almost everyday and it has lasted me some 7 months.

The positive reviews are right!

The girls in the office were talking about this a lot as being the most under-rated foundation we stocked, but it wasn't until Vanessa in customer service came back from Japan and mentioned that she'd been wearing Inika foundation in all her photos! I figured, I was off to Singapore & Malaysia where it was going to be humid so I should give it a go.

I LOVE this stuff! I use it without a setting powder in cooler Melbourne weather, and I used it with a setting powder in the humidity (yes, all mineral foundations should be considered a *foundation* not a powder - if you normally use a powder with your foundation you should also use a powder with these babies!). I experienced no smudging, no smearing, all day wear that looked natural.

Honestly I can't think of a way it could be improved. Natural, vegan, cruelty free, great quality, not scented... I'd recommend this to anyone.

Colour me very impressed. FYI: I use 01 - Grace, which is great for any skintones between MAC N/NC 10 - 15. I'd say this shade leans neutral rather than yellow, and I can see it working for pinker undertones too.

Lightweight but great coverage ($$$ but worth it)

Inika mineral foundation is lightweight, however, provides great coverage. On the expensive side, but worth it. Don't need to apply a lot so it lasts. It is long wearing even on really hot, humid days. I have had much fewer breakouts since using it and it is definitely the best mineral foundation powder I have used (and I have tried loads). Best of all, it is completely animal cruelty free!

Worth the money, great for your skin!

This foundation is incredibly light but gives fantastic coverage and it smells amazing! I trialed this product after being recommended by my skin therapist, and I haven't looked back. My pores are visibly smaller and the make up lasts all day and doesn't budge!

I was recommended to get Nurture, but when I received it I knew that it would be way too light for me so I exchanged it for Trust. I have a medium skin tone; I used to use MAC studio fix fluid NC25 and also Nude by Nature powder foundation in medium. Nurture is far too light for me and does not match the olive undertones in my skin. If you are even mildly olive (like me) I would recommend going with a darker shade such as Trust or Freedom.

Great product.

I have been using this product for a couple of years and find that it gives a great natural look.

My fair lady

I apply using Inika's Kabuki brush everyday. It is effortless for a fresh daytime look. I'm fair and I use Grace.

Love Inika products - completely animal friendly (vegan)

I love this mineral foundation, it's light, leaves a great coverage, lasts for quite a while. I won't buy anything else. The brand line is great. Can't wait to buy more.

Great product!

This is my favourite foundation. I also love that it is a vegan brand. Great coverage and the product lasts for a long time.

Great quality organic product

I love Inika Mineral Foundation and have been using it for over a year now. It's great to use when I'm after a natural look for during the day or at work. If you have oily or combination skin, it helps to have blotting paper handy as you can get a bit shiny by the end of the day. That said, it feels nice and light on my skin and comes off easily for me with only a cleanser.

I think Inika is well priced considering it is 100% natural, organic, ethically produced and a vegan product.

I love Inika foundation

I've been using Inika foundation for about 8yrs. It gives good coverage, feels light on my skin, fabulous on hot days, easy to remove. It has never upset my sensative skin, other "natural" foundations had become a problem. I had trouble getting Inika when I moved to WA and tried a coulpe other brands of reputable mineral foundations, they ended up in the bin. I'm happily buying Inika on line.

Fantastic product!

I've been using this product for about 2 years now and am very happy with it. I have quite sensitive skin and I'm also pale, so it can be very hard to find a shade that suits me and that doesn't irritate my skin. I've used a lot of cosmetic brands and a lot either irritated my skin or made my skin break out. This product has been wonderful for my skin. It lasts for months, because you only need a bit to cover your face and it hides red marks, blemishes, etc, really well. It also looks very natural, which is great. I would definitely recommend this to anyone.

Amazing product!

I have been using inika products for 2 years now. I first started using this product because it is 100% natural! It is fantastic for all skin types and doesn't cause breakouts. The coverage is great and can be used as a concealer. I recommend this product to anyone!

Great product

The coverage is great and nice on my skin. Great as a cocealer powder anf foundation powder in one. I think more product could be included for the price, however thats my only con.

A Quality Mineral Powder

This is the only mineral makeup I use as the quality of ingredients is excellent. This website offers the best price on this product too. The coverage is quite good although I also need to supplement a tinted moisturiser because I have a fair few acne scars on my face. The only thing I find I need to compensate for is the coverage on my oily areas (at the end of the day I have noticed that the powder will look like it is kind of sitting on top of those zones rather than blended into my skin). Definitely still recommend this product though.

NIce product

I have been using Inika Mineral Foundation for some years now. It was the first mineral foundation I had tried and I was immediately a fan. Just to be sure, I tried a couple of other brands but came back to Inika quickly. I like skin products which are kind to my skin as well as the environment (and animals) and Inika certainly meets this criteria. I use the product every day and find that it is good value.

Absolutely wonderful to wear everyday!

I have been using this product every day for over a year. My skin is very sensitive & I have no irritation at all. It is also the best sunscreen!! I have not been sunburnt on my face since using it. The coverage can be built up to suit. I would recommend using a primer underneath to give better staying power & even coverage but this is a fault if the product. Have been asked what I use & recommended to everyone.

Everything a girl could want in a foundation.

This foundation is by far the best i have ever tried, and trust me thats a few different brands.
In my opinion you pay for what you get. This product however you pay for what you get and more! It feels amazing on your face like your not wearing any makeup at all! You can have a light coverage or build it up as much as you like, and it will never look cakey. Its amazing i cant get over how natural it looks even when a lot of it is applied! It has great coverage and It lasts quite a while. Definitely worth the purchase! I have acne scarred skin prone to the occasional breakout and this foundation covers it right up! For all those girls out there not knowing which colour to purchase Ive always had beige and ivory foundations or powders and bought the lightest shade in this range and its perfect! This is called Grace. Go buy it girls!!!

Best Mineral Make-up Ever!

Over the last couple of years I have tried going as natural as possible when it comes to skin care and make-up. It was a tough search - I didn't want to give up on makeup all together and still wanted to half decent when I went out... I've tried a few different products and while some were alright, they didn't stand up to the Inika mineral foundation powder. It made my skin look radiant and was so simple and fast to apply! I feel good about what I'm putting on my skin and also when I look in the mirror. It's a win/win!