Bioderma Sensibio H2O Micelle Solution 500ml 500ml
Frequently bought with
Please wait while we find a match
Questions & Answers
(No Questions Yet)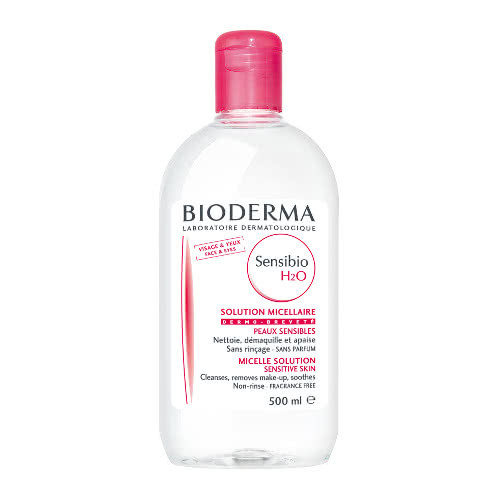 Bioderma Sensibio H2O Micelle Solution 500ml
Get an expert to answer your question about this product!
Ask a Question
100% recommend this product
Most Helpful Positive
great
This product makes taking makeup off easy
Most Helpful Criticism
amazing
this product is great for some skin types but may not work for others
great

This product makes taking makeup off easy

The Best Miscellaire water

This is the best that I've tried.I have sensitive, acne prone skin and this does not irritate or break me out. It's gentle on my skin but powerful enough to remove all the makeup/excess dirt. Highly recommended!

Gentle and effective

I use this as first cleanse - it is gentle, non-drying and effective. Works fine with my oily but dehydrated skin.

Quick makeup remover

this is great for removing light makeup and does not irritate my skin. I definitely recommend washing your face immediately after using this if not it will dry out your skin.

Really good

It's a good product for gently removing makeup. Not too expensive either and lasts forever!


A great alternative to make-up wipes

This is the only micellar water that doesn't irritate my eyes. I use this to remove make-up and then use a cleanser to get rid of any residual make-up or oil. The 500ml bottle lasts me at least 6 months. 100% recommend this.

great

really like this
removes all my makeup and my skin feels nice afterwards
doesnt need much and squeeze a little bit onto the cotton pad

There is no better!!!

Really wish I had discovered this product sooner as I was always struggling trying to get rid of makeup after a night out. This solves everything!! It is so gentle and light on my skin and it always feels so refreshed afterwards. I highly highly recommend this product!

Great for sensitive skin

It's gentle on the eyes and doesnt leave any residue. I stopped using bi-phase eye makeup remover because it usually leaves greasy film on my eyes (I wear contact lenses). I use this instead to remove eye make up that's left after using cleansing balm/oil. I also use this to remove makeup on my hairline so it doesn't make my hair greasy. It's a staple!

Good

I love this product. Removes my makeup really well. My face feels clean and hydrated after using it

The best micellar water on the market!

I've tried a lot of micellar waters and this is by far the best one I've come across. Only requires 1-2 squeezes onto a cotton pad and it's takes off my full face of makeup including mascara. Best part is it doesn't give you that drying/tightening effect on the skin that others can. Love it!

Love it!!

Having sensitive skin I'm always nervous about trying new cleansers, but I'm so glad I purchased this as it leaves my skin feeling cleansed without the tight and stripped feeling. Such a beautiful cleanser for removing my makeup.

Love this product

This was my first product in the Bioderma range that I tried and I absolutely love it- it does everything it says it will, and it does it easily. It removes all make up traces and I dont find it need to wash my face afterwards at all, I just use a bit of this in a cotton pad and wipe over my face and then apply my other skin care products and go to bed. No hassle and is really time saving. Also the product last forever!
Great for oily, sensitive, red and acne prone skin

The best one out there

I love this micellar water, I've been using this for several months now and I can not go back to another micellar water. I've used other brands for years and no other can compare to this one. It removes most of my makeup with ease. Most nights I use this when I'm feeling to lazy to cleanse my face and so far my skin hasn't broken out (whereas previously it did with other micellar water). This one is hard to beat, it's a little pricier than others but well worth it!

Good Product

It's a good product for gently removing makeup. Not too expensive either and lasts forever!

Gentle and effective makeup remover

I love this makeup remover. I used to use the Garnier micellar water, but after I tried this, I can never go back. This makeup remover is so gentle on the skin but effective. Sometimes if I am feeling lazy, I just sleep after removing makeup with this as it sort of works as a cleanser too.

amazing

this product is great for some skin types but may not work for others

Best make up remover ever

I use this product everyday - it is the best make up remover, it doesn't dry out skin, but yet removes all traces of make up, including heavy eye make up. There's a reason it is a cult product!

Really nice product

This is a really nice product. I use it to remove any leftover makeup from around my hairline that's left behind, if you're like me and prefer to use a foaming cleanser in the shower. Using a lightly moistened cotton ball it quickly, effectively and gently removes all remaining traces of makeup. Although this product didn't convince me to change my beauty routine; it has shown me that I need to add an extra step to my routine. I will definitely purchase the full sized product.

The best of the best

I have fairly sensitive skin and this micellar water is beautiful and does the job removing makeup and cleansing my skin. I use this every day and the bottle lasts a good few months, definite value for money.

Value

Staple product, value for money size. Works well to remove makeup without irritating

love this

Such a must have for those with problematic skin! I suffer from dry skin and this product keeps my skin very hydrated! I would recommend this to anyone!

Gentle and highly effective.

This is one of those beauty products that has become a staple in my bathroom. I use Bioderma micellar water almost every night to remove my makeup, including eye makeup and I often give my face a wipe over with it in the morning before applying makeup for the day. It is gentle, effective and kind of refreshing.

I love that it removes mascara with almost no effort. I love that it is unscented and great on sensitive skin. A large bottle lasts for ages as you don't need to use a lot of product.

I have slightly sensitive skin and have never found this micellar water to be irritating and have never had it cause breakouts or redness.


great product

I suffer from dry skin and this product keeps my skin very hydrated compared to other micellar waters, I would recommend this to anyone!

Great product

I have heard about this product for years before I finally tried it and as great as it is, I don't see the difference to other Micelle water products.

Great

Removes makeup effortlessly leaves skin hydrated and plump. Great value for money considering it is a higher end French brand. A little goes a long way with it. Works much better than any other micellar water and I've tried a lot on the market!

Nice

I like this product.
I have nothing bad to say about it at all.
It does it's job - it gets everything off my face.
But can I say one thing - I'm not sure it is better than say my garnier or other brands. I am not sure if I am missing something!
This product is nice - but not sure there's much more I can say.


Good

This really takes all my makeup off however I achieve the same result with my cheaper micellar water products.

Can't live without

After using many other well known brands I can safely say this is the best! Does not sting the eyes and a little goes a long way! I have a bottle in every size, it is an absolute god send product that leaves my skin feeling so fresh, clean and hydrated. Will never use anything else to remove my make up.

A must-have

This is absolutely one of my must-haves. I always have the full size and a couple of travel sizes on the go. It completely and gently removes ALL makeup and dirt, with zero reside or irritation. I do a light cleanse after, usually, just because I like to wash with water as well, but I don't think that's really necessary. It easily removes all my (non-waterproof) eye makeup without any dragging.

Worth it

Love this! My go-to for taking off makeup. Stings my eyes a little but worth the hype.