asap daily facial cleanser 200ml 200ml
Skin Concern:
Dull, dry or dehydrated skin
First signs of ageing
Oiliness and shine
Skin Type:
Normal to dry
Normal to oily
Oily
Questions & Answers
(5 Questions)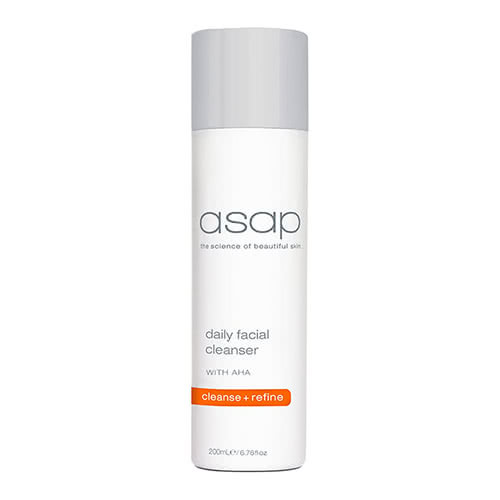 asap daily facial cleanser 200ml
Get an expert to answer your question about this product!
Ask a Question
96% recommend this product
Most Helpful Positive
Great results
Keeps my face feeling fresh, clean and clear.
Most Helpful Criticism
It's nice but not for everyday use
This is a nice cleanser thoroughy cleans the skin but it can be a bit " too much " for sensitive dry skin types , I would recommend to use it on every second or third day especially if you are using other actives such as vitamin c serum , aha/ BHAs and / or retinol
Great results

Keeps my face feeling fresh, clean and clear.

Awesome

great for daily use on my oily, acne prone skin, really made my skin feel nice a fresh and cleaned it, highly recommend

Great for problematic skin

I suffer from acne breakouts - this cleanser is fantastic for keeping it under control, even with my sensitive skin

Great

Love this cleanser. Really reduced the oily production and the amount of pimples and blackheads on my skin. After one week

Good daily cleanser

Love this for daily use- use it every morning as soon as i wake up. active enough to feel a real clean but does not irritate my skin.

it's lovely

I really like this cleanser! I've been using it everyday in the shower and it leaves my skin feeling lovely and soft. Doesn't dry or strip my skin. I'm really happy with it will be buying again.

Good daily product

I bought this along with 3 other ASAP products to try and get my boyfriend into skincare. He was using a supermarket-brand cleanser previously and says that this doesn't seem to be any different considering the price tag, but along with the other products he has seen good results in his blackheads and oily skin.

Great daily staple

Love this for daily use, active enough to feel a real clean but not irritate my skin.

Gentle cleanser

Very gentle cleanser good for sensitive skin. Great as a daily cleanser, no irritation and keeps my skin feel fresh and smooth

Consistent with results

Much cheaper and better alternative to many other cleansers and leave my skin feeling fresh. Helps with dry skin and doesn't cause irritation

Value for money

A brilliant first cleanser to remove makeup and take off the day. Gentle, yet effective. Doesn't strip the skin. Smells good too! Good value for money, especially if purchased on sale.

Makes skin feel fresh

Super fresh after every use. Cleans the skin and helps remove makeup!

Fantastic Cleanser

This cleanser is great to take off the days stresses on hour skin. It's velvety and lush and the bubbles make me feel that it's doing a really great job - not to mention the way my skin looks after use.
I use this daily as part of my skin care routine and it pairs wonderfully with the ASAP exfoliating scrub!

Amazing everyday cleanser!

Have been using this cleanser for a bit over a month now and love it.
Great texture & subtle fresh fragrance. My skin looked brighter after the first wash but doesn't leave my face dry.
Will definitely stick with this one.

Fantastic

Fantastic cleanser!! Feels as though it gives a really deep clean without drying the skin or giving that tight feeling. Have noticed less breakouts since using this also

It's nice but not for everyday use

This is a nice cleanser thoroughy cleans the skin but it can be a bit " too much " for sensitive dry skin types , I would recommend to use it on every second or third day especially if you are using other actives such as vitamin c serum , aha/ BHAs and / or retinol

Use everyday for smooth soft skin.

Since coming off the pill my skin has gone crazy but I find using this product, targeting my problem areas really makes a difference. I use this morning and night and the Skinstitut 14% just at night to get the best results.

Clean creamy cleanser

Great for everyday use. Doesn't dry my skin out, definitely re purchase !

The best Cleanser ever

I've been using this cleanser for around 5yrs now, and I wouldn't change it for anything. My skin feels so clean and hydrated after using this product. I use it both morning and night (I have pretty tough skin) but if you have more sensitive skin I'd use this a night and use the the gentle cleanser in the morning. It's the best cleanser!!

Simple yet effective

I love this product because it cleans the skin well & even removes make up! I always have a glow in my skin afterwards. This is my second bottle & I will continue purchasing. Didn't give 5 stars as it does make my skin a little on the dry side if not moisturised quickly

Lovely

This is such a good face wash!!! it makes my skin feel so clean and soft, it definitely gets all the dirt out and even helps clear my acne I love this so much

Great cleanser

I have problem skin. This product feels like it cleans you face well without feeling like it stripped your face of everything good too.

Great

After years of trying all sorts of cleansers and skincare, spending hundreds of dollars, finally! ASAP skincare is the best I've tried yet. It is not only great value, but has helped my skin and breakouts greatly! The only cleanser and skincare range I'd recommend!

Great for sensitive skin!

I suffer from very sensitive skin so I have to be very careful with the products I use. Thankfully this cleanser didn't upset my skin in anyway. Has a nice smell to it too. Defiantly keep coming back to it. Worth the money.

LOVE IT

This product removes absolutely all of my makeup after using it with cleansing gel. It is so gentle on the skin as well and you only need a small amount it lasts forever.

Probably my Fave Skin Product Out there!!!!

This is definetly up there on my fave products! I've used every product under the sun and this product was incredibly! I had pimples all over my chin in my mid 20s and nothing would take it away! My skin specialist told me to try ASAP and drink more water and within 2 weeks I noticed a huge different! Most my pimple were gone and my face felt so smooth and clean!

I used every morning and night which my face brush aswell

5/5 !

Great for dry skin !

This cleanser works wonders for those of us with dry skin - a non-foaming formula ensures that our skin remains as hydrated as possible

Great cleanser

Have been using this for 2 years now and won't change. The milky formula was different but now I'm used to it. It smells divine too

Lovely

Love it! I use it all the time and find this to work super well. Definitely a go to for me!

Sensitive Skin

I have sensitive skin and I've tried a lot of products that I've reacted to in the past.
This product is gentle to my skin but also cleans and makes my skin feel fresh.
I highly recommend!


Best cleanser ever

I've been using this cleanser for over a year and it is definitely the best one I've ever used. Such a light feel but really cleans the skin and leaves it feeling fresh and moisturised not dry! Can't recommend this product enough

Been using this cleanser for 5+ years and I've never been happier!

I was recommended by my dermatologist 5 years ago to try this cleanser to help calm my adult acne, and it was a miracle! It works as both an exfoliant and a cleanser– no smell and no burning sensation.

I'll be rebuying this over and over again. Couldn't be happier!

Fresh faced every day

I love this cleanser, it has a pleasant smell, a creamy formula and leaves skin feeling smooth and fresh! My go to daily cleanser.

Good cleanser

This cleanser is a really good one, I've used many different products but I think this is going to be my new favourite. Works well my skin feels nice after using. Defiantly need to follow with a good moisturiser.

Finally a cleanser that works but doesn't strip!

Honestly I have done my rounds with cleaners. I have oily skin, prone to blackheads and ingrowns. I wear heavy make up every day and wanted a cleanser that worked to clean out my skin while adding benefits to it as well without stripping my skin and making it feel dry afterwards. I am currently using my second bottle. The first one , I was double cleansing every night and once in the morning but now to savour it a bit more I'm wiping my make up off with a wipe and then cleansing. This product is perfect, it does what a cleanser needs to do without any crazy additional things to strip your skin. I will certainly be using this for a very very long time !

OMG YASSSS

My daughter absolutely LOVE'S this product. I gave it to her to help clear her skin and with regular use, her skin becomes almost clear. She recommends using the asap clear complexion gel while using this product to try to clear skin. Definitely, going to buy this again!!

gentle and great for oily skin

such a gentle cleanser and great for oily skin, doesnt irritate the skin and helps with redness

Best cleanser I have ever used

I have dry to combination skin, this has saved my skin. Just the right level of AHAs gently renewing my skin with every use. Perfect for me! I just love it!!

love this for removing make up

I have pretty oily skin that can be sensitive at times. I love how gentle this cleanser is, whilst still cleaning all of the make up off my skin! I would recommend to anyone with oily/sensitive skin


Amazing product

I use the cleanser and exfoliator and i can say i ABSOLUTELY LOVE these products. I never swear by anything but i swear by ASAP facewash. It seriously is the best!!!!

Good

I have been using this product for 3 months and have just received another bottle. My skin gets better every week with this, and I am surprised how much makeup it removes - especially mascara!

great everyday cleanser

I use this morning and night, removes my make up and leaves my skin smooth and comfortable. I tend to have normal/dry skin (some oil in t-section).

Gentle product

I got the sample version of this cleanser. Its quite gentle on skin tho. Doesn't make skin feel too dry after using it. Good cleanser overall.

creamy

Creamy and cleansing. Doesn't leave my skin feeling stripped but the glycolic acid does a good job exfoliating

Beautiful Gentle Cleanser

Beautiful gentle cleanser, ideal for everyday use and especially for sensitive skins!

Nice cleanser

Received a sample of this product, used while travelling. Face feels clean, removed makeup reasonably well, not too strongly scented. A bit pricey but probably will buy the full size bottle!

Great cleanser

I love this cleanser, you only need a tiny amount but it works so well at removing makeup and cleaning the skin. I have oily skin and find that this cleanser doesn't leave my skin feeling too 'stripped' afterwards but definitely feels clean

Fantastic product

I have been using this cleanser for 4 years now and my skin has never looked so good. I used to have really sensitive, blemished skin and this product changed everything. It keeps my skin moisturised, whilst providing a deep clean and smooth result. A little goes a long way and one bottle will last me about 4-5 months.

good for everyday

it is a great everyday gentle cleanser. i sometimes use it to take off my makeup too. i do have to double cleanse but it is so worth it.

Great everyday cleanser

I have used many cleansers in the past, but this one I have seen the best results from. For a cleanser with a mild AHA, it is still very gentle on my sometimes sensitive skin to use twice daily. It reduces breakouts & speeds up healing of current breakouts. Will not go back to another cleanser!

This product tends to encourage breakouts

I love almost all of the asap products,but this isn't one of my favorite.I find that everytime I have used it my skin tends to breakout.

Gentle Cleanse

I have fair, sensitive skin and found this to be a really nice, gentle cleanser. It was not ideal for a deep clean but did not cause any irritation.

It was pretty good

Pretty good cleanser, leaves my skin soft but I NEED to double a cleanse with this.

Great

I've been using this product for years and it's fantastic! Removes all makeup, including eye makeup.

asap daily facial cleanser

Smells is amazing and feel very clean after wash out with no dryess.

Great daily cleanser

Purchased for my daughters, they love the way it leaves their skin feeling soft and smooth while still removing their makeup

Fab cleanser

First time purchasing this cleanser and I love it. It's a lovely cream format that doesn't bubble up too much. Leaves my skin feeling really clean but not stripped of moisture.

Unsure

I find this a little too creamy. Sort of like rubbing moisturiser in on wet skin. My skin feels a lot more oily since using but I'm hoping after awhile it will settle down.

Gentle and effective cleanser

I've been using this for a decade now. The formula removes ALL makeup with a single cleanse except perhaps very waterproof mascara. Doesn't leave my skin feeling tight. Will purchase forever.

Beautiful

Gorgeous cleanser! My skin is super sensitive and this was just Devine! Face is soft and fresh

Good everyday cleanser

This product is great for everyday use to give your skin a good clean. It doesn't dry the skin out or leave it oily, very happy to have found this product.

Basic cleanser

This is a good basic cleanser. I suffer from dermatitis and this stuff has worked well with it. Hasn't aggravated it or made me flare up

Really effective and still so gentle

I have oily/combination skin that is very sensitive, and has large pores prone to blackheads, this cleanser is absolutely fantastic, it keeps my face feeling fresh and clean, I have noticed an enormous difference in the brightness of my skin, it is soft and I have managed to avoid any facial psoriasis so far while using it. This cleanser removes the oil without drying my face out, I'm into my second bottle and I'm ready to commit to this cleanser for reals.

A great all-rounder!

I have acne-prone skin and can't stand cleansers that are either too drying or take repeated washes to remove my make up. This cleanser is the ultimate given that it balances my skin and is also a very effective make up remover. It's affordable, has a mild scent and doesn't sting my sensitive eyes. I have stuck with this for years ever since It was recommended to me by a friend in the industry! Love love love.

Very effective without being harsh

I have been using the ASAP daily facial cleanser morning & night for over a year and I love it.
I am prone to breakouts on my cheeks and chin and I find this helps reduce them. The cleanser has a soft/silky feel to it, removes make up and cleanses the skin without being too harsh.
Great value for money and I will continue using it in the future.

Great for sensitive skin!

I use this cleanser every night and over the past few months it has definitely helped to brighten my skin, and I believe it is helping with controlling any breakouts I would normally get as they definitely have been arising less over the months I have been using this. It easily removes all my makeup even my mascara, and does a thorough job of cleansing my skin without drying it out as I am prone to dry patches especially in winter. I am really happy with this product and with a reasonable price tag I am happy to keep purchasing it!

very good

cleanses well without being too drying and clears up my skin !

Amazing

Has cleared up my acne. First product I have used that has worked so well and left my skin feeling amazing

Affordable option for Acne Prone Skin

I have suffered with adult acne for the last 10 years and have tried multiple products. Using the ASAP daily facial cleanser morning and night, I was able to see results within the first 4 weeks. Having used this product now, in combination with ASAP daily exfoliate cleanser for 6 months, my breakouts are far less common and when I do get a pimple it disappears a lot quicker.

Looks promising

Cleanser arrived today and have just tried it. Nice milky texture, friendly on the skin and doesn't dry the skin out. Not much is needed and is a bonus that removes excess makeup easily. Happy so far, will continue to use!

Love love love it!

This is my first asap cleanser, having started on the serums for some significant adult acne. I was hesitant as my skin can get quiet sensitive and dry out very quickly and really was worried it would be too strong. But ... this cleanser is amazing. It is effective and yet gently and my skin feels lovely clean and fresh without harsh stripping. I use in conjunction with the asap's B, R and alternate between D and C serums and my skin is glowing. I am constantly getting compliments at how fresh my skin looks, the redness associated with acne is going, and more open pores are slowing improving. Can not recommend asap highly enough.

Gentle and effective

This is a lovely gentle daily cleanser, leaves my skin feeling squeaky clean without feeling dried out

Love it!

Second bottle, can't be without it now - gentle but highly effective, just wish i'd tried it sooner!

Amazing facial cleanser

Absolutely love this product, it is my favourite cleanser! I have been using it over 2 years now and have never looked back. Leaves your face feeling so clean, smooth and refreshed!

Great for sensitive skin

Leaves my face feeling light and refreshed. I have very sensitive skin and have had zero issues with this cleanser

Fantastic Cleanser

I used this as a teenager and recently purchased it again as I remember loving it in the past. I have combination/oily skin and I find this cleanser is quite good for my skin type. It doesn't feel like it dries out my skin or makes it oilier which is great! I find I break out less when using this cleanser daily as well.

Great for sensitive combination skin

Love this cleanser. I have fair, sensitive, combination skin. I wear makeup and sunscreen daily. There was a notable improvement in skin tone and hydration within days of use. I also used to have the occasional cystic zit on my neck/jaw line and they on there way to disappearing. Highly effective.

Good gentle cleanser

This is a good gentle cleanser. I would say safe for sensitive skin. Leaves skin feeling fresh and clean without being too harsh. Perfect for a daily cleanser

Nice daily cleanser

I like how this cleans my face without drying out my skin. Even with the higher price point you get a lot with what you pay for, I use mine every day since I got it back in November and I still have heaps left

Great product, good value

After years of using Dermalogica I have finally switched to ASAP. This cleanser is very effective, has a good texture, smells lovely, and is great value because it lasts a long time.I also really like the packaging, the pop up lid is very convenient. I have combination skin that is quite sensitive and since using this I have had less congestion without sensitivity. Would recommend to most!

Gentle but effective daily cleanse

My skin is a bit combination and a work in progress. My main issue is dryness around the nose and chin.

This is the second time I have purchased this face wash. I have trialed a lot of different face wash products and this is probably my favourite daily cleanser. It's gentle but still leaves my face feeling soft and fresh, and it lasts a long time!

Oh my Lordy! Best!

This cleanser is so good! Takes everything off - I only use a tiny pump to get make up off - then another tiny pump for a double cleanse - AMAZING STUFF.
I have combination oily skin and it has helped alot.
I use this with The Ordinary Niacinamide 10% + Zinc 1% and a moisturiser on top for day or Rose-hip oil on top at night.
My skin has never looked better.

Great Cleanser!

I love this cleanser! It has a lovely creamy texture and removes makeup well. IIt leaves my skin feeling soft and clean.

Fresh

My skin feel fresh and clean. Have just been using a few days . There is a few bumps I think its a normal reaction cos I have oily skin. But my face do not have that irritates feel and dont feel tight. It rather feel soothing .

My fav cleanser

I love this cleanser. I use it in the shower and it keeps my skin clean and glowing

Great cleanser!

Bought this cleanser on a recommendation and really like it. A little goes a long way so price is justified.

Great product

Great product that cleans well. I use it with a few other ASAP serums and moisturisers and they have really decreased the amount of breakouts that I have.

Clears everything

Been using for years. Love it

Perfect daily cleanser

Leaves your skin feeling fresh and well cleaned without drying out. Perfect as an everyday cleanser. Would recommend. Priced well for large bottle.

Good for normal to dry skin

Found this was good for makeup removal. Didnt really work for me on the preventative side though.
I have acne prone skin and it didnt really help but it definitely is refreshing.

A lovely, every day wash

I have oily dehydrated skin and can be prone to break outs (sigh). I ordered this after reading good reviews and even though I have moved onto a slightly more active product these days, I enjoyed this face wash and ordered it a few times. It doesn't leave your skin feeling tight or like you need to double down on hydration. Great for daily use and it smells lovely. I recommended it to my Mum this week.

Great textured AHA cleanser

I have dry skin however I am also prone to hormonal acne around my Jaw line. I bought this cleanser as it is suitable for all skin types and I have found that it doesn't leave an oily film nor does it dehydrate my skin. I was concerned my skin would become sensitive using an AHA everyday however it has not, I am always wearing sun protection and I would recommend wearing a moisturising SPF 30+ when using any acids in your products. I will be purchasing this cleanser again :)

Great for sensitive oily skin

Keeps my face fresh, easily removes excess makeup and is gentle on my sensitive skin. 100% would buy again.

Clear skin!

I love this cleanser, my skin is so clean and it helps exfoliate the dead cells nicely!

good

bought this for my boyfriend and he said he likes it

Everyday Essential

I received this as a tester and I am hooked. It has a lovely creamy milk texture and I only need a tiny amount to remove all of my makeup. It is gentle on my sensitive/combination skin and it doesn't dry it out. My skin is so soft after use and it doesn't leave it feeling tight or that super clean scrubbed feeling which I don't like.

The clearest skin!

My skin has gone from covered with deep cystic acne spots, to beautiful, clear, bright skin! This has changed my skin dramatically and I will continue to use it! I must be on my 5th or 6th bottle now! It does exactly what it says and clarifies skin beautifully.

My holy grail face wash

My mum and i LOVE this product! It is so gentle yet really makes you feel refreshed and clean. I have used this product everyday for 2 years and still haven't found another face wash that suits my everyday needs.

Clearing cleanser

I really love this cleanser. I absolutely noticed a difference in the appearance or my skin and the decrease in acne. I don't have sensitive skin however I would think this would be ok for those who do as it just felt sooooo gentle. Love that it's made in Aus too!

Love love love!

My go to cleanser. Just purchased my 4th bottle. Makes me skin feel fresh and clean like no other cleanser I have tried. Must buy!!!!